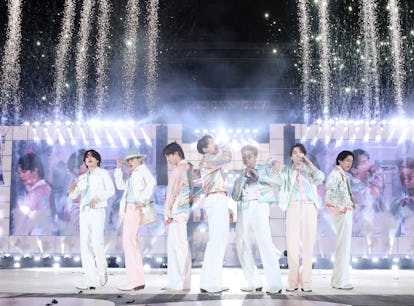 Here's Your Detailed Guide To BTS' Bangtan Universe
Inside BTS' unique music video universe.
Courtesy of BIGHIT MUSIC
Each BTS music video is a total masterpiece. From the intricate choreography to the complicated storylines, they showcase BTS' attention to detail. Occasionally, the group even hides an easter egg or two in their videos. Often, these hidden references relate to the Bangtan Universe.
The Bangtan Universe, or "BU," is a fictional story that exists across BTS' content, including visuals, their Save Me webtoon, The Notes 1 book (both from 2019), as well as their BTS Universe Story mobile game. The story follows a group of seven young men whose fates are intertwined, and each character is based on a specific BTS member.
If you see certain scenes or symbols repeating in BTS' music videos, it might be because the story involves time travel and alternate timelines. Pretty cool, right?
While many of BTS' music videos are part of the BU, some exist outside the universe. Thankfully, there's an easy way to distinguish. According to fans, videos that belong to this fictional world will have the words "BU content certified by Big Hit Entertainment" at the bottom of the video's description; however, some videos that don't have the marker may still be connected to the BU.
So, without further ado, here is every BTS video that appears to be in the BU.
BTS' recent music videos haven't been connected to the BU, but it's possible their upcoming MV for their next single, "Yet to Come (The Most Beautiful Moment)," might. First of all, the title may be a nod to the group's Most Beautiful Moment in Life era, which included the singles "I Need U" and "Run." Second, their upcoming album, Proof, which drops on June 10, will be an anthology album. It'll feature a collection of the group's songs over the years, including several that tie into the Bangtan Universe like "Blood Sweat & Tears" and Fake Love."
That's not all. The group will expand the story of the BU in their upcoming Youth series. The show will depict how BTS' fictional characters met. BTS won't star in the series themselves. According to Soompi, viewers will see actors Seo Ji-hoon, Noh Jong-hyun, Ahn Ji-ho, Seo Young-joo, Kim Yoon-woo, Jung Woo-jin, and Jeon Jin-seo portray the seven characters instead.
Youth doesn't have an official release date; however, Newsis reported the the show's production company Chorokbaem Media announced the series finished filming in November 2021. This means it won't be long until fans are able to learn more about the BU through the show, so stay tuned.
This article was originally published on