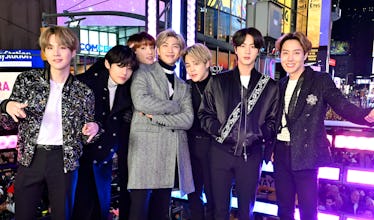 20 Records BTS Set With 'Map Of The Soul: 7' That'll Blow Your Mind
Jeff Neira/Walt Disney Television/Getty Images
Having released Map of the Soul: Persona in April 2019, BTS kept fans on their toes waiting for months longer than usual for their next album. Fans initially believed Persona's followup would arrive in the fall of 2019, so when it didn't, fans became even more curious over its release date. But then, the members teased the project they were working on was going to be their best and most honest one yet, so fans were willing to wait. When BTS' Map of the Soul: 7 finally arrived on Feb. 21, it didn't disappoint. It not only includes a fierce lead single in "ON," but amazing sub-unit tracks, solo songs, and a surprising feature. BTS really outdid themselves with this album, and their hard work totally payed off, as seen with these 20 records BTS set with Map Of The Soul: 7.
In MOTS: 7, BTS reflect on their seven years together as a seven-member group, hence the album title. Since debuting in 2013, BTS has captured millions of hearts around the world with their honest lyrics and charming personalities. Each comeback, the ARMY works together to help BTS break records, so it was no surprise the group made history yet again with the release of MOTS: 7.
Here are 20 records BTS set with their new project.