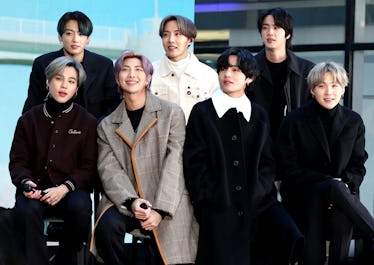 33 BTS Words You Should Know Once You Join The ARMY
Consider this your ultimate guide.
Cindy Ord/Getty Images
Becoming a fan of BTS can be a bit overwhelming at first. While bopping along to their music and obsessing over how cute they look is fun, you also have to juggle all the lingo the BTS ARMY and the members themselves use. What is a maknae? Why does everyone love the color purple so much? I thought there were only seven members, so who the heck is Agust D? Don't despair, though — I've compiled a glossary of BTS words every ARMY should know.
RM, Jin, Suga, J-Hope, Jimin, V, and Jungkook have been dominating the globe since their debut in 2013, and as you can imagine, amassing a fanbase over seven years leads to some inside jokes only ARMYs understand. Beyond the BTS-specific terms, though, anyone unfamiliar with the K-pop industry or South Korean culture might find themselves tripped up by cultural references or Korean words they've never heard before.
That's where this glossary comes in handy; it contains everything from some of the members' nicknames to the terminology they use in their music. Read on to find out what BTS actually stands for, why so many ARMYs call Jimin "mochi," and more.