A little sweat ain't never hurt nobody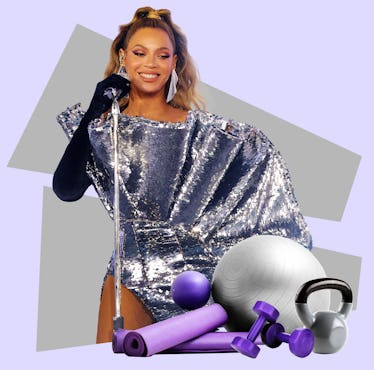 I Tried Beyoncé's Renaissance Tour Workout & Felt Like *That* Girl
So this is how she dances in 6-inch heels.
Elite Daily/Kevin Mazur/WireImage for Parkwood/Shutterstock
It's Renaissance SZN, and between the dreamy setlist, sparkly tour outfits, and TikToks of Beyoncé's best moments on the road, Queen Bey has proven that she is forever that girl. It's no secret that Beyoncé's energy and stamina during her live performances is unmatched. When I saw her on the Formation Tour in 2016, a torrential downpour forced everyone to evacuate the venue. Despite the pouring rain, Bey returned to the stage an hour later and performed her entire set without missing a beat. Since then, I've wondered, "How does she hit those legendary runs and nail the choreography in 6-inch heels?" The only possible answer: Beyoncé's workout routine must be next-level.
TikToks documenting the magic of Beyoncé's Renaissance Tour clearly show that Queen Bey isn't slowing down when it comes to the stunts and dance moves — and it made me wonder if a regular person like myself could also get the same physical strength and endurance by following the singer's fitness routine. Although it was legit impossible to get ahold of Bey's personal training team for her exact Renaissance Tour workout, I did a little digging to see what her routine has looked like in recent years. Here's what happened when I tried Beyoncé's fitness routine for a week — and why I have more respect for her hustle now than ever before.
Monday: Cardio
Running: 4 miles
Lunges: four sets of 15 reps
Squats: four sets of 15 reps
Single-Leg Step-Ups: four sets of 15 reps
Beyoncé uses cardio workouts to build stamina and get concert-ready, according to a Glamour interview with her longtime trainer, Marco Borges. After dragging myself out of bed and getting to Central Park at 6 a.m., I warmed up with some of Bey's go-to leg exercises: lunges, squats, and single-leg step-ups, which she does for balance and stability. Borges recommended stepping onto a sturdy chair (I used a park bench), bringing one knee into your chest, and returning to start. I felt super wobbly at times, which probably explains why Bey is so good at balancing in heels.
Since I'd previously signed up for a 4-mile race, I used that as my cardio for the day. To be clear, I'm no professional; the only person I was racing was myself (and the summer heat). Beyoncé alternates between a one-minute sprint and two minutes of brisk walking for a total of 30 minutes. I needed to sustain my energy for 4 miles, however, so I used a run-walk approach instead. (I did, however, sprint toward the end of the race when I realized the finish line was *finally* in sight.)
The humidity made this cardio session quite challenging, and I was dripping in sweat by the end of the race. No wonder Beyoncé has such high endurance and lung capacity.
Tuesday: Core & Strength
Kettlebell Squat-And-Press: four sets of 15 reps
Dumbbell Punches: four sets of 10 reps
Standing Side Crunches: two sets of 10 reps
Sit-Ups With Medicine Ball: two sets of 10 reps
Squats: four sets of 15 reps
Lunges: four sets of 15 reps
Forearm Plank: four sets, hold for one minute each
I put together a routine with some of Beyoncé's strength exercises that require minimum equipment, using an Instagram video where the singer is seen doing moves like alternating dumbbell punches, standing side crunches, and full-body sit-ups with a medicine ball. She also squeezes in squats, lunges, and planks. I completed the core and strength workout at home using an 8-pound kettlebell, 3-pound weights, and a 10-pound Bala ring in place of a medicine ball.
One of Borges' favorite full-body moves for Bey is the kettlebell squat-and-press, which was new for me. Holding the weight at your chest with your elbows tucked in, you squat down until your elbows touch your knees and stand up, driving the hips forward and lifting the weight overhead. I attempted four sets of 15 reps each, per Borges' recommendation — and by the end of the workout, I could feel the burn in my arms, glutes, and core.
Wednesday: Boxing
30-Minute Shadowboxing
Bicycle Crunches: three sets of 10 reps
Forearm Plank Hip Dips: two sets of 10 reps
Russian Twists: three sets of 10 reps
Boxing is one of my favorite forms of cardio (other than dancing around my apartment to B'Day), and something about the mix of high intensity and choreography gets me hyped. I don't have a punching bag in my apartment, so I broke out my old hand wraps from my former boxing studio, queued up Beyoncé's best anthems, and completed a 30-minute shadowboxing workout to the beat of her songs.
It had been a while since I'd attended a boxing class IRL, but this at-home workout felt like the real deal. I was dripping sweat within the first few minutes and at one point, I took a break to dance around my apartment to "Break My Soul." According to Borges, Beyoncé's boxing workouts help her build endurance for long performances and tours — and after this workout, I can see why.
After the high-intensity boxing sesh, I cooled down with some gentle stretches and finished with light core work — crunches, forearm plank with hip dips, and some Russian twists, which is a seated twist where you rotate side to side with your legs lifted off the floor (hello, obliques!). By the end, I felt emotionally lighter and also ready for a nap. I highly recommend this Beyoncé-style workout if you want to sweat and feel like a total badass.
Thursday: Core & Strength Round 2
Kettlebell Squat-And-Press: four sets of 15 reps
Dumbbell Punches: four sets of 10 reps
Standing Side Crunches: two sets of 10 reps
Sit-Ups With Medicine Ball: two sets of 10 reps
Squats: four sets of 15 reps
Lunges: four sets of 15 reps
Plank: four sets, hold for one minute each
Normally, I'm the type of person who likes to vary my workout routine, but I was excited to replicate Beyoncé's core and strength workout for a second time to see whether I was getting stronger. I went to the gym, and used a 10-pound dumbbell, two 5-pound dumbbells, and a 4-pound medicine ball, and went through the sequence in order. I'm always craving a deeper core workout, so this time, I added a few Russian twists to the sit-ups portion.
This time, I noticed that my squat-and-presses were much stronger and more fluid than they were before. Watching my form in the studio mirror also helped a lot, and I found myself moving more intentionally to get the moves right. To finish the workout, I challenged myself to hold a plank for as long as I could. My muscles were on fire — especially my arms and shoulders — but I started to feel like Beyoncé's routine was making me stronger.
Friday: SoulCycle & Arms
45-Minute SoulCycle (Spin, Arms)
Walking: 1 mile
Forearm Plank: hold for one minute
Forearm Plank Hip Dips: two sets of 10 reps
Bicycle Crunches: three sets of 10 reps
Bey is the queen of many talents, and apparently, one of those talents is the ability to do multiple workouts within 24 hours. In Homecoming, she said, "Eventually, I want to be able to do SoulCycle, the stairs, and rehearsal in a day." So, I set out to replicate a similar routine — but due to my utter exhaustion, the "three-a-day" situation didn't work out exactly as I hoped.
First, I attended a 45-minute SoulCycle class, which involved a combination of high-energy interval cardio on a stationary bike and a brief arm series using 3-pound weights. I hadn't been to Soul in a month (someone help me manifest a Beyoncé-level budget, please!), but it was a blast. I was totally drenched in sweat and my arms were shaking toward the end of the arms series, but being in the jam-packed, dimly lit, music-filled room felt equally meditative and motivating.
Post-SoulCycle, I took way too many stairs to and from the subway, walked a few extra blocks on my way home, and finished the day by stretching (read: laying on the floor) at my apartment. I was pretty tired by the time I got home, and couldn't fathom the idea of Beyoncé doing a full-on rehearsal. I attempted some light core exercises before going to bed.
Day Five was enlightening. I don't know how many two- or three-a-days I could realistically incorporate into my fitness routine, unless I followed a super regimented schedule and exercised early in the morning, followed by a lighter workout at night.
Saturday: Yoga Rest & Recovery
Downward Facing Dog
Warrior I & II
Seated Spinal Twist
Seated Forward Fold
Pigeon Pose
Child's Pose
Beyoncé's trainer previously told Glamour that he "stretches her after every workout" to maintain flexibility. As a certified yoga instructor, I thought this would be the perfect excuse to recover while still getting some gentle movement in. I was feeling pretty exhausted on Day Six, and a mix of active and passive yoga postures was exactly what my body was craving.
I began in downward-facing dog, which felt incredible for my back. However, I also felt my tight hamstrings right away, and transitioning into warrior one and two, I noticed my hips were noticeably sore after yesterday's SoulCycle class. Eventually, I made my way down to the ground and did a few spinal twists and forward folds followed by a pigeon pose on both sides. I finished the yoga series with a long child's pose, and TBH, I could've stayed there all day.
Day Six reminded me that no matter how intense your workout routine is, rest is needed — including for Beyoncé. The star told Elle UK that she also enjoys practices like meditation and guided visualization to keep her centered. Even though I didn't launch into full-on zen mode, I felt calmer and more aware of my body during the yoga routine.
Sunday: Legs
Walking: 1 mile
Jumping Lunges: three sets of 10 reps
Plié Jumps: three sets of 10 reps
Pelvic Lifts: three sets of 10 reps
Reverse Squat Kicks: three sets of 10 reps
Towel Stretch: hold for 60 seconds on each side
After six days of running, boxing, spinning, core work, and strength training, I felt like I had worked nearly every inch of my body. But to finish the week on a high note, I attempted Beyoncé's leg workout, which her trainer previously shared with Elle. The routine includes a series of jumping lunges, plié jumps, pelvic lifts, and reverse squat kicks. Borges recommended doing 10 reps during three sets to really work the lower body.
First, I did a light warmup on my walking pad at home to get my energy flowing after sitting at my desk all day, before launching into the workout. At first, the movements felt pretty attainable, but after repeating them over and over, my glutes and thighs were on fire. I also started getting shaky during the reverse squat kicks and had to use the wall to stabilize myself a few times (no shame). My legs are pretty strong to begin with, but I was surprised at how much of a challenge Bey's leg workout proved to be.
At the end of the series, I laid on my yoga mat, grabbed a towel, looped it over the arch of my foot, then straightened my leg for a hamstring stretch. To release the hip flexors, I did a "figure-four" pose on my back followed by "legs-up-the-wall." This cooldown felt amazing after leg day and at the end of a long week.
Beyoncé Workout Routine Results
After a week of doing Beyoncé's workouts, I can see why she has the stamina that she does for the Renaissance Tour and countless other projects. Every day felt like a full-body workout, and I personally felt a big difference — physically, mentally, and emotionally — between Day One and Seven. Prior to this challenge, I'd do a mix of low-impact exercises, like walking, Pilates, yoga, and the occasional treadmill or spin class. During solo sessions at the gym, I often shy away from using weights, but this workout routine made me realize that a little strength training can go a long way.
By the end of this challenge, I felt stronger and more toned overall. Along with the physical results, I learned that photographing myself working out presented a major lesson in body acceptance and positivity. In a world where you can scroll through TikTok and see countless fitness influencers with rock-hard abs, I had to remind myself daily that how I feel is more important than the aesthetic. I'd definitely do this workout again, but for now, it's time to celebrate with a Renaissance Tour cocktail.