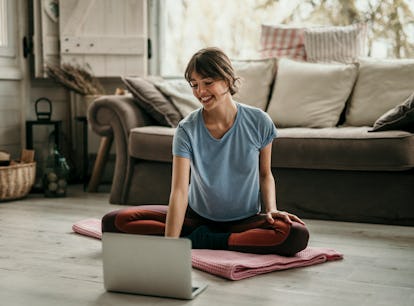 12 At-Home Pilates TikToks To Follow For A Quick Workout Routine
Getting a sweat in is as easy as scrolling through your FYP.
Studio4/E+/Getty Images
Setting aside some time either everyday or throughout the week to exercise is always a good idea. However, getting to the gym or a class may be hard or not in your budget right now. Luckily, there are plenty of ways to to workout at home for free. You just need some pilates at home TikToks to follow for your own workout routine.
TikTok truly has something for everyone. If you're looking for some viral recipes to try at home or need a good LOL, you know your FYP is full of tutorials and memes. It's also a great place to put together your own pilates workout at home. You just need to find a routine that works for you. If you're a beginner or a pilates pro looking to target certain areas of your body, TikTok has it all. There are even pilates at home TikToks that are perfect for doing outdoors in the summertime or first thing in the morning when you need to wake up but only have 15 minutes.
If you want to get creative, you could even assemble your own unique routine from different at-home pilates TikToks. The first step is browsing these pilates at home TikToks to find the routines and pilates moves you want to follow. Then, it's time to start to moving.