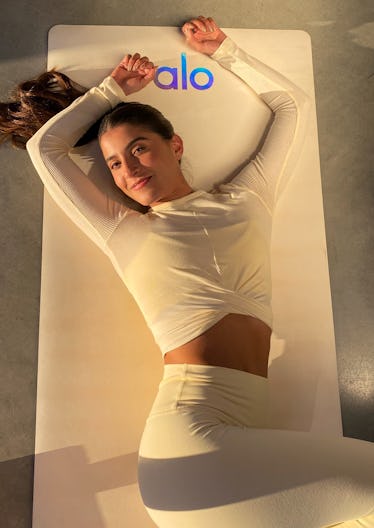 10 Beginner Yoga Poses From A Celeb Instructor For A Quick Burn
Start the year off with an energizing flow.
Courtesy of Alo
There's a new yoga instructor in town — or at least on the Alo Moves platform. Annie Moves, who has taught some well-known celebrities, is the latest yoga instructor to join the Alo Moves family. For her first-ever yoga series on the platform, the celebrity yoga teacher — whose real name is Anabella Landa — is leading an easy class with beginner yoga poses that you may want to incorporate into your own at-home routine.
Let's face it, exercising at home can be a real struggle. You need the motivation to actually workout instead of just watching another episode of the show you're currently streaming on Netflix. Luckily, Alo Moves is one of the online platforms that are making it a little easier for you to carve out some time in your schedule to move your body. The home workout service allows you to stream content like yoga exercises and meditation videos from some of the best instructors whenever you'd like.
To get a taste of what's to come from Annie's online beginner yoga class, Alo invited me to their headquarters in Beverly Hills for a fun flow. With the new year around the corner, you may have some wellness and workout goals you're working towards in 2023. If you're needing some motivation to kick off your own fitness routine, here are some of the yoga exercises for beginners that we did in Annie's class. These 10 easy yoga poses will not only offer you a quick burn and some instant energy, but you can also say you were taught by a celebrity yoga instructor.