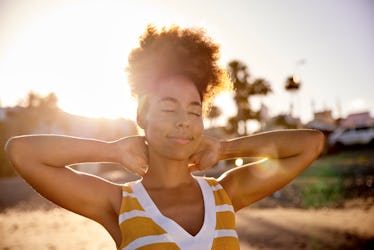 13 Yoga Poses For The Summer Solstice To Set Your Intentions For The Season
Kick off the longest day of the year with a good stretch.
Westend61/Westend61/Getty Images
Every year on the summer solstice, it's nice to dedicate your yoga practice to all the warmth, love, and light that the special day brings. It's the longest day of the year, full of sunlight and good energy — the perfect time to cleanse your being and nourish your soul with the abundant nature, fresh air, and greenery that comes with the start of the seasonal shift. The yoga poses for the summer solstice you decide to do can change a bit each year, but what stays the same is the fact that they never fail to set your soul on fire in a huge way.
This year, the summer solstice falls on June 21, so it may be a good idea to set up your yoga mat on the beach at 6 a.m. sharp to begin flowing and immersing yourself in the spiritual magic of the day by doing summer solstice yoga poses. The summer solstice invites us all to rejoice in the present moment and celebrate bountiful prosperity, in whatever way speaks to you and your unique soul.
Elite Daily spoke with licensed psychotherapist Molly Zive and yoga teacher Georgina Berbari, who shared a few recommendations for summer solstice yoga poses that are great for welcoming in the new season. If you're choosing to roll out your yoga mat to celebrate the solstice this year, here are 13 yoga poses for summer solstice you can flow through to soak up all the beauty of this enchanting day and really open your heart to the beginning of summer.
This article was originally published on