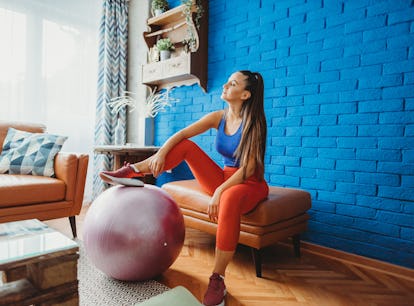 Fun Cardio Workouts For Beginners To Try, According To A TikTok Fitness Trainer
milan2099/E+/Getty Images
Cardio and fun may be two words you didn't ever think could go together. After all, the idea of gasping along on a treadmill might be the last thing you want to do after a busy day. However, running isn't the only workout that'll make you break a sweat, and there are plenty of fun cardio workouts for beginners that'll get you excited about putting on your leggings at home. Elite Daily spoke with popular TikTok fitness trainer Brianna Joye about some of the best cardio workouts for anyone looking to start an easy exercise routine that they'll actually want to keep up with.
While your mind may go directly to the treadmill and running when you think of cardio, these cardio workouts are a lot more enjoyable than that. They're also for anyone looking to boost the amount of cardio they do each week, including newbies. According to Joye, these "workouts can be done by absolutely anyone," and a lot of them are full body exercises that'll get your heart rate up while you have some fun.
You could even get your partner or roomies to join you for an at-home cardio workout party each week. Make it more enjoyable by putting together a playlist of your fave workout songs to listen to while trying these 11 fun cardio workouts recommended by Joye. While you don't have to love every single workout on this list, you're sure to find a few that you'll want to add to your routine ASAP.