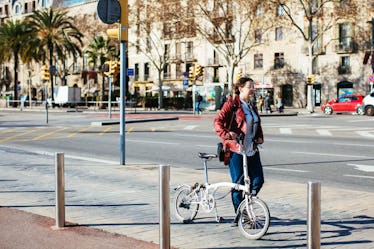 Cardio Doesn't Have To Involve Running To Make You Sweat & These 6 Workouts Prove It
Treadmill running and jogging definitely have their place in a well-rounded fitness routine, but frankly, sometimes they suck and you just don't want to do them. Still, when you're in the mood for something that's really going to get your heart pumping and help you forget the stress of the day, you know what it's like: You just need to sweat it out, and you need to sweat it out now. You know, as long as you stay as far away from the treadmill as possible. Luckily, there are a number of cardio workouts that make you sweat that don't involve running or jogging in any way, shape, or form. Bless. Up.
You probably don't need me to tell you that cardio is good for you, but the thing is, you really don't even have to do a lot of it to reap the benefits. Only about a half hour or so of aerobic activity a day is recommended by the American Heart Association (AHA), and listen, fam: The AHA never said anything about those 30 minutes having to be on the treadmill, so feel free to ditch that machine forever if you've low-key always hated it.
There are so many ways you can make cardio super sweaty, somewhat enjoyable, and incredibly satisfying sans running. So, prepare to get creative and sweat your heart out with these six cardio workouts. head-to-toe.