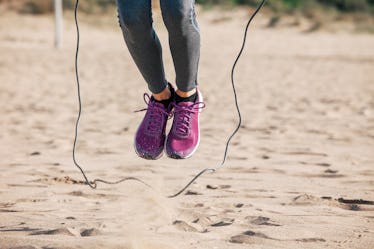 5 Workouts That Totally Still Count As Cardio When All The Treadmills At The Gym Are Taken
You know the feeling: You've somehow convinced yourself to be super pumped (for once) about hopping on the treadmill and sweating it out. But when you get to the gym, the unspeakable happens: All the treadmills — and even the damn ellipticals — are taken. As tempting as it is to be dramatic AF and have a passive aggressive staring contest with that middle-aged man who is clearly abusing his 30-minute-cardio-equipment privilege, take a deep breath, let that sh*t go, and try these exercises that count as cardio instead. Besides, who needs the treadmill, anyway?
While treadmill and elliptical workouts are great, reliable forms of cardiovascular fitness, they're not necessary in any way to achieve your cardio #goals. Plus, some people can't stand those machines and would rather watch paint dry than hop on the "dreadmill," as they so lovingly call it.
According to Yahoo Lifestyle, by amping up both the speed and intensity with which you perform your movements, you can transform just about any workout into a healthy dose of cardio.
So, whether the treadmills and ellipticals are all occupied by the time you get to the gym, or the thought of running just simply bores you to tears, there is a light at the end of the heart-pumping tunnel. Here are five workouts that still totally count as cardio — no treadmill required.