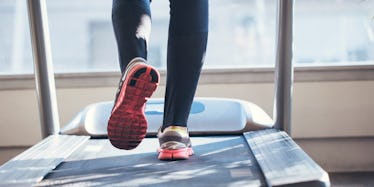 How To Make Cardio More Fun With These 7 Really Simple Changes In Your Routine
Cardio workouts can be tedious and monotonous AF if you get stuck in a rut, or find yourself mindlessly hitting up the treadmill day in and day out. I don't know about you, but lengthy, draining cardio sessions bore me to freaking tears, and they tend to make all motivation go out the window real fast. I'm constantly looking for ways to make cardio more fun, and luckily, spicing things up isn't as hard as you might think. There are plenty of ways to turn cardi-no into cardi-OH HELL YEAH.
While a little bit of cardio each day — I'm talking only about a half hour or so of aerobic activity a day — is recommended by the American Heart Association for optimum heart health, people often think that this translates to hitting up the elliptical for an hour, or dragging yourself to the StairMaster to meet your cardiovascular needs.
However, these classic forms of cardio aren't actually necessary if you're not that into them. There are so many other forms of cardiovascular activity that are way more fun, and will still help you reach your #goals, especially when all the treadmills at the gym are taken.
At the end of the day, if you enjoy lengthy treadmill sessions, you do you, girlfriend. And if the thought of running makes you want to puke, there are other ways to include cardio in your routine without taking the fun out of the whole experience.
Whether you're running, cycling, walking, or "plogging" (more on that in a bit), here are seven ways to change up your cardio routine and keep things genuinely fun.