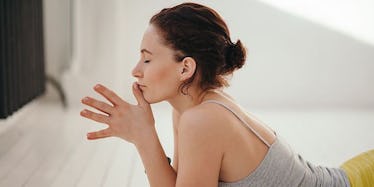 5 Hygge-Inspired Exercises That'll Actually Make You Look Forward To Working Out
When it comes to healthy living, it's easy to get wrapped up in the physicality of it all and assume that HIIT workouts, green juices, and superfoods are the recipe to a happy and fulfilling life. However, Danish culture has taught us a thing or two about our fast-paced definition of fitness with their term "hygge." When it comes to working out, hygge proves that the mental aspect of fitness is often much more important than the physical. Considering they live in the happiest country in the world, taking a tip or two from the Danes on including hygge-inspired exercises in your routine is a surefire way to revamp your mindset around fitness, and make you look forward to working out every. Damn. Time.
Hygge — pronounced "hoo-ga" — essentially means being able to enjoy life's simple pleasures and filling your heart will all the warmth and goodness. And while sprints and burpees might give you a temporary rush of endorphins, hygge-inspired exercise will unite both your body and your mind, leading to a more tranquil quality of life, with much less stress in the long run.
So, if you feel like you're always dreading hitting up the elliptical or squeezing in a core circuit, try living like the Danes and adding a sprinkle of hygge to your workout routine. These five hygge-inspired exercises will help you come to a place in your life where you actually look forward to lacing up your sneakers or rolling out your yoga mat, so you can stop working out only because you simply feel like you "should."