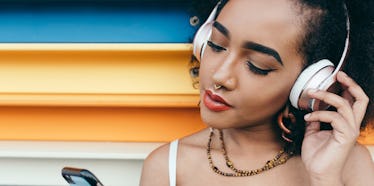 These 6 Health Podcasts Will Answer All The Questions You've Ever Had About Your Body
Entering the world of podcasts can be truly bewildering and mildly stressful, let me tell you. I mean, there are so many out there and it's hard to know which ones are actually worth listening to, especially when it comes to your health. However, having a list of the best health podcasts right in front of you, will make choosing talks involving quality wellness advice for your mind, body, and beyond a lot easier.
Personally, I think that the first step to finding a kickass health podcast is making sure that the host has credibility and accountability. I don't know about you, but I don't want some random chick telling me what I should and shouldn't eat or which workouts I should do. You feel me?
A great wellness podcast will answer all those weird questions you have about your body that you were low key always too nervous to actually ask anyone out loud, or maybe even help tweak your relationship with food and your body so that you can feel absolutely amazing in the long run.
TBH, some podcasts can feel like a cheap therapy session... they're that good. Here are six of the best health podcasts that will feel relatable AF, make you laugh, cry, and answer every question you've ever had about your body. Happy listening, fam!