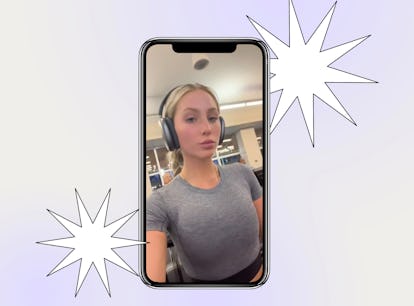 I Tried Alix Earle's Workout & It's An Intense Lower Body Burn
The TikTok star gets her inspo from other influencers, too.
If there's anyone who fits the description of booked and busy, it's Alix Earle. The 22-year-old content creator always seems to be jet-setting to various brand trips, like the Tarte Island vacay in Turks & Caicos, while finishing off her senior year at the University of Miami. Along the way, Earle does make sure to bring her TikTok followers with her via various GRWM videos and vlogs. She even responded to one fan recently, sharing her go-to workout routine at the gym. Looking for a new routine of my own, I tried Alix Earle's workout, and it was harder than I thought it would be.
I trust Earle has good taste after trying her viral go-to Starbucks order, but that doesn't necessarily mean her workout routine is something I can get behind without trying it out as well. My initial reaction was that it didn't look that hard. According to Earle, her go-to routine involves 20 minutes on the elliptical, using the leg machines at the gym, and then finishing everything off with ab exercises from Daisy Keech and a booty burn from Alexis Ren. Seems simple enough, right? Well, after trying it out myself, I wouldn't describe it as simple at all.
A majority of this routine works out the lower half of your body, and my legs were really feeling it by the end. If you're in search of a lower body burn to prep for all the summer pool party invites headed your way, you may want to try out Earle's workout.
Alix Earle's Workout Starts Out Easy On The Elliptical
The first half of Earle's workout is actually not that different from my current go-to routine at the gym. She goes for a run on the elliptical for about 20 minutes, just to warm up. Then, she uses three leg machines — the hip abductor, the hip adductor, and leg extension machine. She does 12 reps with three sets each. At the gym, I normally run a little longer on the elliptical and call it a day after doing a few sets on the various leg machines, but Earle keeps going with an ab and bum workout.
Earle Likes Daisy Keech's Ab Workouts
Just like you may be looking to Earle for workout inspo, the TikToker also turns to fellow creators for ideas on what to do next in her routine. In fact, Earle says she follows one of Daisy Keech's ab workouts after doing her leg routine. I chose to follow Keech's eight-minute hourglass abs workout. Doing each exercise for 40 seconds with 10 seconds of rest in between, Keech does the following:
Butterfly Kicks
Toe Taps
Scissor Kicks
Reverse Crunches
Jack Knives
Bicycle Crunches
Bicycle Kicks
Russian Twists
Basic Crunches
I have to admit I was doing OK up until the scissor kicks. That's when my legs started to really feel the burn from everything I had done before. Once I got through those, the rest of this ab-focused workout was manageable. However, I was starting to wonder how I would find the energy to move on to a booty routine next.
Earle Finishes With One Of Alexis Ren's Booty Workouts
Immediately after her ab workout, Earle follows one of Alexis Ren's butt workouts. This 10-minute booty routine Ren recently posted is the same one she shared four years ago, which has over 11M views on YouTube. Just grab your yoga mat and do the following exercises:
Squats for 60 seconds
Side lunges with squats for 30 seconds on both sides
Curtsy lunges for 30 seconds on both sides
Pulse lunges for 30 seconds on both sides
Squat pulses for 40 seconds
Rainbow kicks for 30 seconds on both sides
Fire hydrants for 30 seconds on both sides
Donkey kick pulses for 60 seconds on both sides
Bridge hold for 60 seconds
I was really struggling to keep up with Ren. Just between us, I had to stop the video a few times to take a second to rest before powering through. This just made me super impressed that this is what Earle does every time she goes to the gym. I know that if I keep up with this routine, it'll get easier to follow, but it was more of a workout than I was expecting.
For a full body workout, I would add in some arm exercises as well. I actually did this routine at my climbing gym, so I was able to work out my arms by bouldering right after. Saying my body was sore the next day would be an understatement. Even though it was difficult, I am so down to try it again. Next time, I might even add in Earle's pre-workout energy drink to give me the boost I need to make it all the way through without stopping.