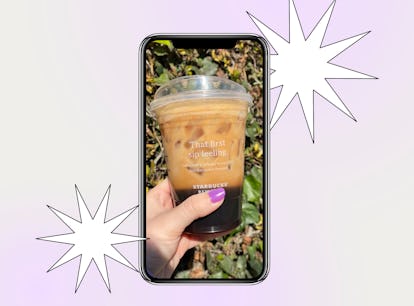 I Tried Alix Earle's Starbucks Order To See If It's Worth The Hype
A late-night study sesh must-have for $5.
TikTok/Elite Daily
TikTok "it girlie" Alix Earle may be best known for her GRWM videos, but she's also shared other aspects of her on-the-go lifestyle, including recipes and grocery hauls. One recent recipe she's revealed is her go-to Starbucks drink, which the influencer swears by to fuel her during everything from college classes to her viral influencer trips. I decided to try Alix Earle's Starbucks order for myself to see if it delivered on flavor and energy, and it's actually a really refreshing pick-me-up.
Earle's Starbucks order — a shaken espresso with almond milk, vanilla syrup, and cinnamon powder — may sound like a pretty basic Starbucks order to some people, but there are some slight customizations that make this drink kind of genius. For instance, Earle subs out the classic syrup that is automatically added to the shaken espresso with vanilla syrup instead. This makes the drink less sugary while adding a hint of vanilla flavor, which is a nice but subtle addition for coffee lovers. If you want the taste of actual espresso to get you going without overpowering syrups or flavorings, this is the drink for you. Considering Earle is constantly on the go, making videos and traveling to different events, she needs a drink that'll wake her up.
How To Order Alix Earle's Starbucks Drink
Whether you're ordering in store or on the Starbucks app for mobile pickup, you'll need to make a few adjustments to your drink — so jot this down. For Earle's go-to Starbucks drink, order a grande iced shaken espresso and sub out the 2% milk for almond milk. You'll then want to remove the four pumps of classic syrup, subbing them out for just three pumps of vanilla. Earle says that some days she goes with just two pumps, but I felt the three pumps wasn't too sweet and added just the right amount of vanilla flavor. Then, to top it all off, Earle adds a dusting of cinnamon powder.
This final step really adds a lot to the drink. In fact, the cinnamon is the strongest flavor next to the espresso. It hits you right away and sticks with you as you're sipping. The drink is around $5 with all the additions, but definitely worth it for a delicious jumpstart.
Alix Earle's Starbucks Order Review
I've tried Starbucks' shaken espressos before, and personally was not a huge fan. I'm more a latte drinker, but I found Earle's customizations really improved the drink. Using vanilla instead of classic syrup cut down the sweetness for a stronger espresso taste. While I'm not the biggest fan of cinnamon powder, I can see how cinnamon fans would absolute love it on top. It gives the drink an added boost that kind of reminds me of the holidays. If you decide to ditch the cinnamon, it definitely wouldn't be the same drink.
With de-influencing trending on TikTok, users are becoming less likely to trust what a content creator says is good versus bad. However, when it comes to Starbucks orders, you can definitely trust that Earle knows what she's talking about. This is a great coffee order for a busy college student. Sure, it's not full of flavor like Kylie Jenner's passion tea lemonade and it's not Insta-worthy like the lavender haze drink at Starbucks, but it's an upgrade to a regular iced coffee. If you're looking for something different to sip on as you're studying in the library or running from class to class, this is the drink to try.