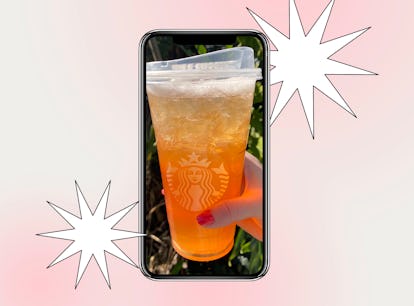 I Tried Kylie Jenner's Fave Starbucks Order & It's Low-Key Chaotic
It's a lot of flavor for just $3.75.
Rachel Chapman
Your go-to Starbucks order really does say a lot about who you are, which is why it can be fun trying your fave celeb's go-to drink to get a better idea of what they're like. For instance, Kylie Jenner's Starbucks drink has a lot going on. While the base is just an iced Passion Tango tea lemonade, Jenner customizes her go-to order with raspberry syrup. You would think the combo of passion tea, lemonade, sweetener, and raspberries would be too sweet, but it's got a good mix of sweet and sour to it.
However, there's no denying it's a lot of flavor in one drink. With each sip, you're immediately hit with the sour lemonade, followed by the strong raspberry aftertaste. It's not an overly caffeinated espresso shot, but it's sure to wake up your tastebuds. It makes sense that Jenner would choose a drink that is jam-packed with flavor, because her busy schedule is a little chaotic as well. Not only is she a mother to baby Aire and Stormi, but she's also the founder and owner of Kylie Cosmetics. She needs a drink to match her energy, and this passion tea lemonade really does that. If you have a busy day ahead of you or you just want to try something adventurous for your tastebuds, you might want to order Kylie Jenner's go-to Starbucks drink for yourself.
How To Order Kylie Jenner's Fave Starbucks Drink
Jenner first posted her go-to Starbucks order on Instagram in 2012. She failed to mention just how many pumps of raspberry go into her drink, but fans like @salvaggio_chris have tracked down the exact order. Whether you're ordering from the app or in-store, you'll need to ask for a venti iced Passion Tea tango lemonade with three pumps of classic sweetener and three pumps of raspberry syrup. For a tall or grande, you'll need less pumps of each.
This drink is also fairly cheap for how much flavor you get with it. You can expect to pay anywhere between $3.75 to $4.25, depending on where you live.
Kylie Jenner's Starbucks Drink Review
The first thing I noticed about my passion tea lemonade was that it was more yellow and orange than the pink drink Jenner posted on IG. Starbucks' Passion Tango tea is a blend of hibiscus, lemongrass, and apple, so it's possible the apple and lemongrass really overpowered the hibiscus shade in this particular brew. The added lemonade didn't hurt changing up the color, but the taste was still there. I noticed the passion tea and lemonade right away with the raspberry kick at the end.
Was the raspberry necessary? Absolutely not. It didn't really add anything to the drink, since it was mostly an aftertaste. It was also a strange combo since the passion tea has a tropical feel to it, and raspberries don't scream Caribbean beach to me. IMO, they clashed when I was able to taste everything at the same time. Also, while I wouldn't say it's overly sweet, I would skip out on the classic sweetener next time.
The one thing I really liked about this drink was that it stayed flavorful throughout the day. If you're someone who has a tendency to forget about their Starbucks drink after a few sips and it sits around for a bit, this drink is for you. As the ice melted in my cup, it didn't dilute the flavor too much. Personally, I think it actually helped a bit, making it a tasty option for anyone who's on-the-go like Jenner.