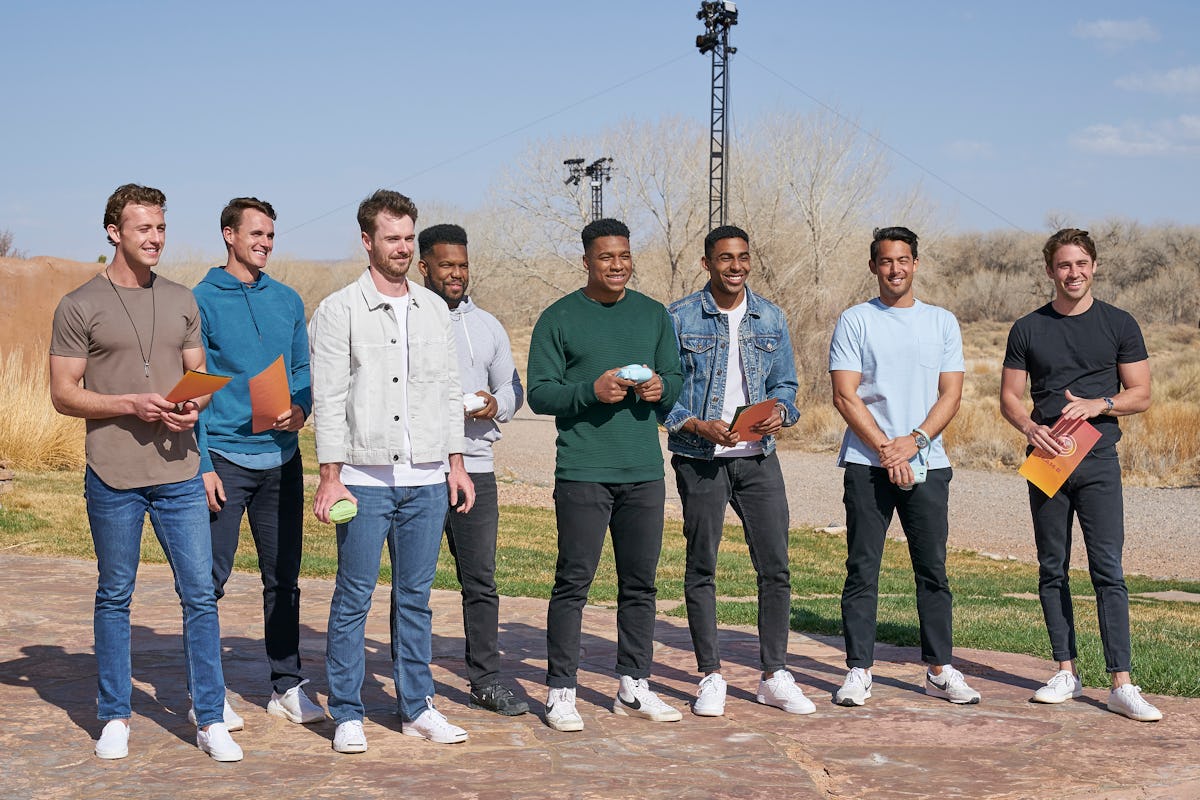 Here Are The 2 Guys Left For Katie's Bachelorette Finale
Raise your hand if you did not expect this Final 2 situation.
ABC/Craig Sjodin
It's been a long time since the Bachelor franchise has had such a fun season, but with Katie Thurston as the lead — and Tayshia Adams and Kaitlyn Bristowe hosting — it makes sense why Season 17 of The Bachelorette is such a hit. The dates! The sex positivity! The lead who doesn't take any sh*t! And while all of the men competing for Katie's final rose seem to be gems, there can only be one winner. So, if you're wondering who's left on The Bachelorette this week, here's the breakdown of the guys in the running to be crowned Mr. Thurston.
Before landing her own starring role, Katie caused quite the ~buzz~ on Night 1 of Matt James' Bachelor season. The TikTok star may have made her mark by giving the Bachelor a vibrator when they met, but each episode of The Bachelorette Season 17 is proving that not only is Katie an icon by way of normalizing sex positivity on mainstream television, but also that she's on the show to find love and not just social media followers. From sending guys home who weren't there for the right reasons to continuing her reign of "resident drama stopper," Queen Katie seems to be all in on the journey.
As for who will get her final rose, only time will tell. But until then, here's who's still left on Season 17 of The Bachelorette, broken down by each episode.
The Bachelorette Episode 9 (Aug. 2)
After a dramatic "Men Tell All" the previous week, viewers finally got to see the final three contestants' hometown dates during the Aug. 2 episode. First up was Blake, who created a Canada-themed date that involved drinking maple syrup and playing street hockey.
Upon meeting Blake's family, his mom and sister wasted no time asking whether or not they were in love and gave Blake plenty of sh*t for falling for the two previous Bachelorettes as well. At the end of their visit, Blake's mom said she felt Katie was genuine and encouraged Blake to tell Katie he loved her… which he didn't do, but he did say he could see them getting engaged at the end of the season (aka the very next episode).
Up next was Justin, whose family didn't show up. Instead, two of his besties came to meet Katie. After a Baltimore-inspired date (which was basically just riding around in a horse-drawn carriage), the couple sat down with his friends and the evening ended with Justin telling Katie he was falling in love with her.
Before you think it was all sunshine and happiness, after Greg and Katie's sweet hometown date, during which she made a great impression on his family, things went up in complete flames. Greg told Katie he was in love with her, and after she didn't respond the way he'd hoped, he got very upset. Later, he went to her hotel room to continue the conversation. It was there that he said he was leaving, leaving a devastated Katie in his wake.
This means only two guys, Blake and Justin, are still in the game. Will either of them get down on one knee during the Aug. 9 finale? We'll have to wait and see.
The Bachelorette Episode 8 (July 26)
If you were expecting to see some hometown dates during this episode, you were probably a little confused or a little disappointed — or maybe both. But you also weren't alone. Although promos for the July 26 episode teased Katie's hometown dates, in reality, Episode 8 only showed a portion of Katie's season; the rest was taken up by the "Men Tell All" special.
That doesn't mean the episode went by without an elimination, though. After a gut-wrenching video chat with his son, single dad and widow Michael Allio decided to self-eliminate so he could go home. This was devastating for Katie — and all the fans who had come to love him — but ultimately, it's pretty much a universal truth that he made the right call for himself and his family.
So, that means there are only three guys left as The Bachelorette heads into the final two weeks of the season. In the Aug. 2 episode, expect to see Blake, Justin, and Greg all get the hometown dates fans expected to see in Episode 8.
The Bachelorette Episode 7 (July 19)
Katie's Bachelorette journey is officially starting to wind down, and with only a few weeks left, the stakes are high. Episode 7 started out with Katie asking Greg on a 1-on-1 date, during which she showed him a little bit of her hometown, Seattle. First, they went to a makeshift Pike Place Market, where they threw fake fish at each other and played football before sitting down and chatting about their connection. "Greg is is somebody I'm definitely falling in love with," she said after giving Greg a rose.
Back with the rest of the cast, after his name ended up on the group date card (instead of getting a 1-on-1), Brendan went to Katie's room to ask why he was still in the competition at all. After chatting, she admitted she didn't think their relationship would go the distance in time for hometowns. Instead of having him stick around through the date, Katie sent Brendan home right then.
With one elimination down, Katie went on an artsy group date which resulted in Michael A. getting the rose after the couple talked about what their future would look like with his son. Her Week 7 dates ended with a 1-on-1 date with Mike P. The couple went to the woods for a cuddle lesson, which seemed awkward on its own — even before Mike told Katie she reminded him of his mom. Before the dinner portion, Katie decided to send him home since their relationship wasn't as strong as some of the others there.
After an emotional episode, Katie sent Andrew S. home during the rose ceremony, even though he told her he was falling for her. When he showed up the next day to say goodbye on a happier note, Katie asked him if he wanted to stay, but he said he was hurt, and they both agreed she made the right choice. It was a big week for eliminations, and it leaves only four guys left. Here's who's heading to hometowns on Season 17:
Blake
Greg
Michael A.
Justin
The Bachelorette Episode 6 (July 12)
Episode 6 started off with a twist that gave viewers major Too Hot To Handle vibes. Katie told Tayshia and Kaitlyn she wanted to see if the contestants could hold off from practicing "self-care" (which is network TV-speak for masturbating, which is a very normal and healthy thing). They decided to call it "Operation WOWO," and the guys seemed very unenthused about it.
After delivering the very unpleasant news, Kaitlyn dropped off a date card, which is how Justin ended up on a 1-on-1 with Katie. The couple had a fake wedding and after seeing how comforting Justin could be when Katie opened up about her late father, she gave him a rose. Following Katie's successful 1-on-1, she went on a very unsuccessful group date featuring drag queens Shea Couleé and Monét X Change. The guys were supposed to roast each other, but it was kind of a bore, and eventually, everyone just talked about how they felt Hunter was lying about his feelings for Katie. During the evening portion of the date, Katie got so upset about the situation she seemingly became sick and canceled the rest of the date without handing out a rose.
Then, Katie went on another 1-on-1 date, this time with Connor "The Cat" Brennan. Unfortunately, Katie felt their connection was more of a friendship bond than a passionate bond and she went to his room before the evening portion of their date to break things off. Through tears, Katie told Connor she wanted the best for him and he comforted her as she eliminated him, which was utterly heartbreaking. Luckily, Blake showed up at her window with a boombox to cheer her up and reminder her of their passionate bond, which was demonstrated via a few minutes of making out. It was so steamy, in fact, that Blake said he had a feeling Katie would end up as his fiancée at the end of all this.
After an action-packed episode, Katie had a rose ceremony in which Tré, Hunter, James, and Aaron were sent home. It was a big elimination, and it leaves only six guys left vying for Katie's heart. Here's who's still around on Season 17:
Andrew S.
Blake
Brendan
Greg
Michael A.
Mike P.
Justin
The Bachelorette Episode 5 (July 5)
Episode 5 started off with Katie informing the rest of the contestants that — shocker — Blake Moynes would officially be joining the competition. The new couple went on a 1-on-1 date to "make up for lost time," and after going horseback riding and opening up about their pasts, Katie gave Blake a rose and mentioned she could potentially see a future with him.
Heading into the episode's group date — which involved a made-up sport and single father Michael Allio getting physically hurt on the field — Katie spent some time getting to know all of the guys better during an evening cocktail hour. After chatting with Hunter Montgomery about fatherhood (and seeing some pictures of his kids), she gave him the group date rose, thus ensuring his safety into Week 6. It was during the evening portion that Michael let the other contestants know his first wife passed away, and some serious bromances started forming as the guys broke down their walls and comforted one another.
The final 1-on-1 date of the week was with Andrew Spencer, who walked away with a rose after opening up to Katie about his experiences as a Black man in an interracial relationship. Following that was the pre-rose ceremony cocktail hour, and with it came some drama. In an effort to get time with Katie, James Bonsall (aka the box guy) interrupted Hunter, which started some beef. The guys felt it wasn't fair for Hunter to spend time with Katie when he already had a rose, and Hunter basically said he DGAF. When it came time to hand out the roses, it was clear the time was seriously precious, since Katie sent Andrew M., Josh, and Quartney home after seeming to not get much time with them at all.
So, here's who's heading into Week 6 of Season 17:
Aaron
Andrew S.
Blake
Brendan
Connor B.
Greg
Hunter
James
Justin
Michael A.
Mike P.
Tré
The Bachelorette Episode 4 (June 28)
Episode 4 was all about real connections, from the date to the contestants to the not-so-surprise appearance of former Season 16 Bachelorette contestant, Blake Moynes. The episode started with Katie going on a group date that centered around the guys being willing to do the extreme to be with her (which basically involved eating a lot of food and whispering dirty things into a giant ear). During the evening portion of the date, Tré told Katie about the ~Thomas drama,~ and she rewarded him for his honesty by giving him the group date rose.
After a pre-rose ceremony with Thomas — during which he admitted the thought of becoming the next Bachelor went through his head before he got to know Katie — Katie heard out the rest of the contestants to decide whether or not to keep him around. When it came time to make her choice, Katie ultimately told Thomas his Bachelor audition was over and to get out.
In addition to giving Thomas the boot, Christian, Conor C., and David also got cut during the rose ceremony. But Katie didn't just eliminate four guys; after some consideration, she decided to let Blake join the house as a contestant. So, here's who's heading into Week 5 of Season 17:
Aaron
Andrew M.
Andrew S.
Blake (!!!)
Brendan
Connor B.
Greg
Hunter
James
Josh
Justin
Michael
Mike P.
Quartney
Tré
The Bachelorette Episode 3 (June 21)
Week 3 started off with a rose ceremony, and after Karl Smith claimed some of the guys weren't there for the right reasons (but refused to name names), the other contestants banded together mid-ceremony to warn Katie about him, basically saying he was just causing problems. Katie listened and sent Karl, along with John Hershey, Garrett Schwartz, and Kyle Howard home. Following the eliminations, Katie went on a group date hosted by former Bachelor star Nick Viall, during which she opened up about being a sexual assault survivor. Following the cathartic date, Katie started growing closer to single dad and widower Michael.
While it almost seemed like things were going to end on a romantic note, Thomas Jacobs admitted he'd originally gone on The Bachelorette with hopes of — you guessed it — getting followers. Granted, he said he found himself developing real feelings for Katie, but Katie said she needed time to think about what Thomas said. Since the episode opened on a rose ceremony, there wasn't one to wrap up this episode, so here's who is still vying for Kate's heart after Week 3:
Aaron
Andrew M.
Andrew S.
Brendan
Christian
Connor B.
Conor C.
David
Greg
Hunter
James
Josh
Justin
Michael
Mike
Quartney
Thomas
Tré
The Bachelorette Episode 2 (June 14)
Week 2 brought a group date, the first 1-on-1 date, and one dramatic elimination. After completing to be the "best lover," Mike Planeta won the group date challenge thanks to his emotional letter about saving sex for marriage. After Katie and her first impression rose recipient, Greg, went on a 1-on-1 date, she had another group date which involved all of the guys mud wrestling each other. Very hot? Yes. Very dramatic? Also yes.
But it wasn't all fun and games. After Aaron Clancy won the group date wrestling challenge, he told Katie he didn't believe Cody Menk was there for the right reasons. After chatting with both men, Katie sent Cody packing then and there. Since there was no rose ceremony during Week 2, there was only the one elimination during the episode. Here's who's left (but TBD on whether the rest of them are actually there for the right reasons):
Aaron
Andrew M.
Andrew S.
Brendan
Christian
Connor B.
Conor C.
David
Garrett
Greg
Hunter
James
John
Josh
Justin
Karl
Kyle
Michael
Mike
Quartney
Thomas
Tré
The Bachelorette Episode 1 (June 7)
Heading into Season 17, 29 men (and one box) were set to compete for Katie's heart. As per usual, the limo entrances were full of heartfelt moments, cringey pickup lines, and quite a few memorable (and forgettable) first impressions. After meeting all of the guys (and the box, who turned out to be a very attractive guy named James) and giving Greg the first impression rose, Katie sent home a total of seven guys on night one: Austin, Brandon, Gabriel, Jeff, Landon, Marcus, and Marty. This leaves 23 men still competing for the Bachelorette's heart. Here's who's left:
Aaron
Andrew M.
Brendan
Christian
Connor B.
David
Greg
Hunter
Justin
Michael
Mike
Quartney
Thomas
Tré
James (aka The Box)
Andrew S.
Conor C.
Josh
Garrett
Kyle
John
Karl
Cody
See who — if anyone — gets Katie's final rose as The Bachelorette Season 17 continues on Mondays at 8 p.m. ET on ABC.
This article was originally published on