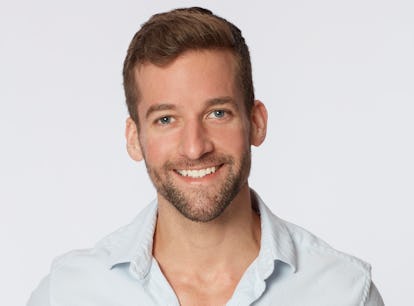 Yikes, Bachelor Nation Is Already Comparing 1 Of Katie's Contestants To Jed
A musician from Nashville? Groundbreaking.
ABC/Craig
There are usually two reasons people go on The Bachelorette: to find love or to find fame. And while it's usually hard to tell on Night 1 who's there ~for the right reasons,~ one contestant on Katie Thurston's season had Bachelor Nation's alarm bells going off in the first few moments of him being onscreen. But while Connor Brennan may have viewers major flashbacks to a previous season's winner, there's more to him than his hometown and hobbies.
Fans first saw the 29-year-old Nashville native during his intro package at the start of The Bachelorette Season 17's premiere episode, during which he played a song he wrote for Katie and strummed a ukulele in the bathtub. While that seems innocent enough, fans couldn't help but feel nervous. A musician? From Nashville? It wasn't too long ago that Bachelor Nation saw Hannah Brown get her heart broken after ending her engagement to Jed Wyatt, another Nashville musician. Despite giving Jed her Final Rose, Hannah B. broke off their relationship after rumors came out about Jed having a girlfriend when he joined the show.
Considering how the whole Jed situation went down, it makes sense viewers would be wary of another Tennessee guy who likes to play music.
Luckily, it seems like the fact that Connor is a musician from Nashville seems to be where the similarities end. According to his official ABC bio, the quirky middle school math teacher has a Master's degree in medical physics and also works as a dueling pianist. While he has a "nerdy side," he isn't afraid to poke fun at himself.
To make a good first impression on Katie, Connor came out of his limo in a cat costume, since he knew Katie loves cats. While it was a bold move, Katie seemed to loved it. "I'm a crazy cat lady," she said. "He gets my sense of humor. Coming out in a cat costume is the way to my heart."
After chatting again later that evening, the pair made out on Night 1, laughing as Connor's whisker makeup got all over Katie's face. While he didn't snag the First Impression Rose, Connor the Cat clearly gave off good vibes — not only for the Bachelorette, but for viewers at home as well.
It just goes to show, you can't judge a Nashville musician by his cover. After peeking at his Instagram, the singer/teacher clearly cares about fitness (hi, abs), teaching spin class, and traveling the world, all while keeping his sense of humor. It turns out, there's much more to Connor the Cat than his dreamy voice and Tennessee roots. But will Katie and Connor's love story have a puuuurfect ending? We'll have to wait and see.
Season 17 of The Bachelorette airs Mondays at 8 p.m. ET on ABC.