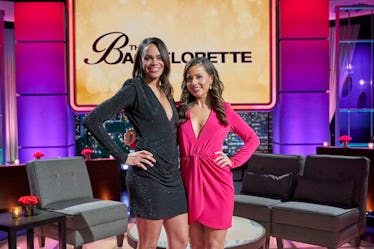 There Are Going To Be 2 Bachelorettes This Year, Because There Are No Rules
When it comes to The Bachelorette, good things definitely come in pairs. Season 16 featured not one, but two love stories, as viewers watched Clare Crawley and Tayshia Adams each search for love. Lucky for Bachelor Nation, that trend is continuing: Katie Thurston and Michelle Young will be the Bachelorette in 2021. But unlike Clare and Tayshia, each of them is getting their own separate seasons to find the love they deserve.
On Monday, March 15, ABC announced the two new leads at The Bachelor Season 25's "After the Final Rose" special. First-time Bachelor franchise host Emmanuel Acho brought both women onstage at the very end of the episode before letting them announce their big news: "We're the Bachelorettes!" the two women said in unison.
While it's definitely an unprecedented move, these fan-favorites have both proven they're more than capable of handing out roses. Katie promoted sex positivity and called out toxic behavior in the house during her time on Matt's Bachelor season, while Michelle quickly won viewers over with her warm personality and passion for making a difference in the world.
When asked about how she was feeling about her and Katie's dual casting, Michelle got candid. "I was a little nervous, but once I found out that it was two different seasons, I was here for it," she said on the "After the Final Rose" special. "I'm excited that I get to have somebody to bond over with this and share notes as we go."
Katie is also eager for the adventure to come. "I'm ready to find love," she said. "I've seen it work before. Why can't it work for me?"
So, how exactly will this new arrangement work? It turns out Bachelor Nation is about to get creative with scheduling. Katie's Bachelorette season will air during the traditional Bachelorette time slot: in the summer, most likely starting in May. The late summer will likely be dedicated to Bachelor in Paradise, which fans have not seen since 2019 due to the coronavirus pandemic. Then, Michelle's Bachelorette season is set to air in the fall (just like Clayshia's season did).
ABC's Instagram video reveal of the next two leads confirmed the timeline and featured cute clips of Katie and Michelle that'll get you so pumped for both their seasons:
As previously announced on Twitter, Chris Harrison will not be back to host Katie's season of The Bachelorette. In his absence, former Bachelorettes Tayshia Adams and Kaitlyn Bristowe will be filling in, so you can bet it's going to be an empowering season you won't want to miss.