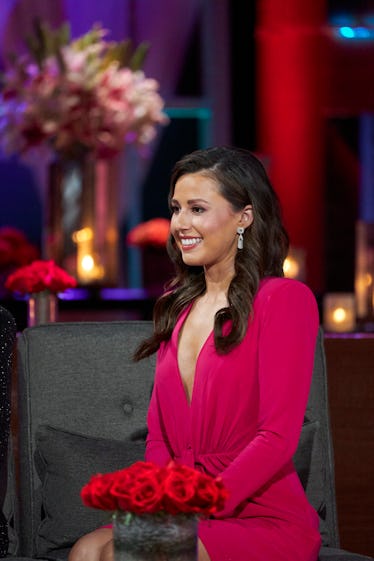 Katie Thurston Might Be The Most Sex Positive Bachelorette We've Ever Had
On the first night of filming for Season 25 of The Bachelor, Katie Thurston stepped out of the limo to meet Matt James with a vibrator in hand. Little did she know, that same energy would propel her toward being named the next Bachelorette on the March 15 "After the Final Rose" special alongside fellow contestant Michelle Young. Katie Thurston's sex positivity makes her so relatable and real, she already feels like everyone's BFF — and her season hasn't even aired yet.
In the early days of the pandemic (while everyone else was making whipped coffee), Katie was amassing a TikTok following that is now 277,000-users strong — a following she created by posting funny stories about her life. They weren't all sexual, but there was definitely a theme to her TikToks: honesty. From stories about one-night stands to rants about masturbation, Katie's TikToks are perfect friend group text material. Coupled with the fact that she became a fan-favorite on The Bachelor after confronting the bullies in the "house" (which was really just the Nemacolin Resort in Pennsylvania), and it's clear why Bachelor Nation fell in love with her: No matter what anyone thinks about Katie, she's going to do Katie.
But don't take my word for it. Here are some of her most LOL-worthy TikToks that prove that if her sex positivity is any indication, we're in for the most fun season of The Bachelorette yet.