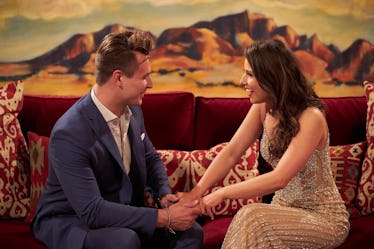 This Bachelorette Elimination Was More Emotional Than Anyone Expected
At least Katie clarified why she kept him around so long even when he had no screentime.
ABC/Craig Sjodin
When Brendan Scanzano came to Katie Thurston's room during the July 19 episode of The Bachelorette, he probably wasn't expecting to get sent packing then and there. But it's Katie's world, and unfortunately for him, that's how it went down. If you're scratching your head over the unexpected elimination, here's why Katie sent Brendan home on The Bachelorette.
First of all, there' a good chance you didn't even know who Brendan was before Week 7. Even though the 26-year-old Canadian made it to the top seven, he had approximately zero screentime. And while you might just think that was editing, it sounds like he didn't get much time with Katie either.
When the contestants got the Week 7 group date card and Brendan heard his name on it, he was clearly disgruntled (since that meant he wouldn't be getting a 1-on-1 date before hometowns). Since he hadn't been on one yet, he decided to go to Katie's room to get some answers, because he wasn't sure why he was still there.
Heading to Katie's room, Brendan seemed confident about how the conversation would go, saying every time they were together, it always went well. Unfortunately, as soon as he started talking, it was obvious this convo would be the exception. Brendan told Katie he had been having a bad couple of days and after not getting the 1-on-1, he was unsure about his place in the competition. "When I'm with you, I feel like we can take over the world," Brendan said. But as the only contestant without a 1-on-1 date left in the cast, he didn't know what was going on.
"The first night I met you, you were bold. You've continued to put yourself out there," Katie told Brendan. "You are somebody I felt a connection with." Sadly, despite their initial connection, Katie didn't think it was enough to take them to the end. "Because of hometowns being next week, I don't know that we could get there in time," she said. Katie explained it didn't feel fair to make Brendan go through the group date after they talked and decided to say goodbye to him right then.
While he was shocked, Katie's choice made one thing very clear: She's not afraid to break up with anyone not right for her. After all this, I can't wait to see who — if anyone — she feels is her perfect match.
The Bachelorette continues Mondays at 8 p.m. ET on ABC. The Season 17 finale airs Aug. 9.