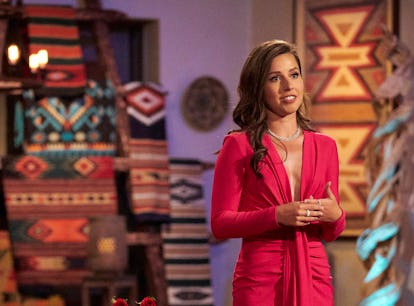 6 Theories About Who Wins Katie's Bachelorette Season
There are lots of ideas out there.
ABC
When it comes to finding her person, Katie Thurston isn't messing around. As her Bachelorette season has progressed, we've seen her form connections with plenty of amazing guys, making her final rose choice even harder. But with the competition narrowing rapidly, you may find yourself wondering: Who's going to win Katie's Bachelorette season? Let's break down all the potential outcomes.
It's no secret Katie is intent on creating a real love connection. She said as much when she was announced as the Season 17 Bachelorette during March's "After the Final Rose" special on Matt James' Bachelor season. "I'm ready to find love, and not just the temporary kind. I'm talking forever, my husband," she said during the episode. "I'm in a place in my life where I feel like I'm the best version of me. I've seen [this process] work before. Why shouldn't it work for me?"
Fingers crossed Katie walks away with a partner for life, but even as the season starts wrapping up, there are just so many options for who that person could be. There's charming New Jersey boy Greg Grippo, hunky returning Bachelorette contestant Blake Moynes, sweet single dad Michael Allio, wholesome soccer player Andrew Spencer, and even more amazing options. So, as fans wait on the edge of our seats, join me in breaking down some of the major theories about who wins the season — and Katie's heart.
The Bachelorette continues Mondays at 8 p.m. ET on ABC. The Season 17 finale airs Aug. 9.