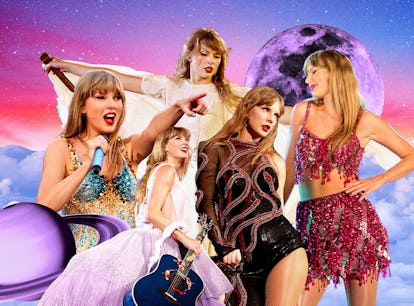 Why October Is The Best Month For Taylor Swift, Based On Astrology
September saw a month of tears, but not the days that followed.
There's never really a month that can't be linked back to Taylor Swift. "Gray November, I've been down since July." "August slipped away into a moment in time." "Do you remember the 28th night of September?" All of these are iconic lines crooned by the singer that can — and have — been applied to many an Instagram caption. Yet there's one month that's arguably been the best for Taylor Swift: October. At least according to astrology. And this year is no different.
Over the span of her career, the Grammy winner has woven so many astro-themed references throughout her discography (e.g. "The Archer" serves as a direct reference to her Sagittarius sun sign). She's also got a history of picking some pretty auspicious release dates for her albums. Most recently, it seems like she caught on to the powerful energy of eclipse season, releasing her 2022 record-breaker, Midnights, on Oct. 21, just four days shy of the year's Scorpio solar eclipse (Swift's a Scorpio rising.) It's almost as if she has an astrologer on her team... or is an astrologer herself because is there anything she can't do?
Coincidentally or not, October has proven to be quite popular for Swift to release new music, with the "Karma" crooner dropping *half* of her albums during this month, starting with her eponymous debut in 2006. With the recent premiere of her Eras Tour concert film and the upcoming re-release of 1989 (Taylor's Version) on Oct. 27, one could assume that she has caught on to the magic of the otherwise so-called spooky SZN. Hey, even her newly rumored beau, Travis Kelce, was born on Oct. 5. Good omens all around in her case.
But why is October such a great time for the former country star? Taylor Swift's astrological chart may hold the answers.
Taylor Swift's Birth Chart Gives Big Scorpio SZN (aka October) Vibes
While Taylor Swift is known for being a free-spirited Sagittarius sun, the "Cruel Summer" singer is also a Cancer moon with a Scorpio rising. Not only is her rising sign, which kicks off on Oct. 23, ruled by Mars — the planet of action and competition — but Mars also happens to be in Scorpio in her birth chart, intensifying the cautious, determined, and reserved vibes of this fixed water sign. Since Swift has Mars in its home sign, she embodies this red-hot planet pretty intensely, so it's no surprise she can rock red (e.g. red lip, classic; Kansas City Chiefs gear; heck, she even has an entire album named after the color) like nobody's business.
Since the Cats star is like Mars personified, she's bound to feel a major surge in energy when her Mars return comes around once every two years. This year, Mars shifted into Scorpio on Oct. 11, signifying a period of heightened action and assertion for Swift until Nov. 24. When experiencing a Mars return, it's best to take advantage of the sudden increase in vitality by directing your efforts toward what you're most passionate about, which is why releasing Taylor Swift: The Eras Tour movie along with 1989 (Taylor's Version) was such a beneficial move.
October's Eclipses Also Seem To Play A Major Role
Another indicator that Swift may have consulted the cosmos for her upcoming releases is that there's not one, but two eclipses this month — and both of them are ruled by Venus, the planet that governs over all things art, romance, and music.
Her movie hits theaters on Friday the 13th, just one day before the Libra solar eclipse on Oct. 14, an eclipse signifying powerful new beginnings that center unity, balance, and partnership. The next eclipse of the month takes place on Oct. 28 in the fixed earth sign of Taurus, just one day after Swift releases her fourth re-recorded album. This eclipse in particular signifies a chapter closing, as this will be the final eclipse along the Taurus-Scorpio axis, a cycle that began in 2021, the same year she started to re-release her music with Fearless (Taylor's Version) and Red (Taylor's Version).
Not only does October 2023 appear to be a very eventful month for the singer, but it also appears to represent some sort of ending or culmination of sorts. Eclipses are oftentimes considered to be super-charged lunations, coinciding with pretty monumental shifts in the lives of every single person. Whether she's caught wind of how powerful these lunations are or not, she's certainly benefitted from their cosmic energy. Could be coincidence — but with Taylor Swift, it rarely is.