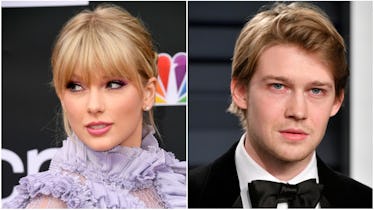 Taylor Swift's "The Archer" Isn't About Who You Expected
Frazer Harrison/Getty Images Entertainment/Getty Images; Dia Dipasupil/Getty Images Entertainment/Getty Images
Taylor Swift just dropped a brand new track from her highly-anticipated seventh album, Lover. It's filled with so much grief, yet beauty. Honestly, I can't help but ask, is Taylor Swift's "The Archer" about Joe Alwyn? Upon further investigation, I think it's about someone even closer to her.
What you should know about "The Archer" is that the song is incredibly emotional. So much so, it's going to be the fifth track on the album. If you didn't know, Swift has a tendency (which has now become a tradition) to place her most vulnerable and emotional track as the fifth song on her tracklists.
"The Archer" is filled with poignant and pained lyrics that on first listen sound like Swift is talking about heartache from a past (or maybe current) lover.
The chorus' lyrics go like this:
I've been the archer, I've been the prey / Who could ever leave me, darling / But who could stay?
Kinda sounds like love gone awry, right? And, honestly, it's no secret that Swift's high-profile dating life is always making headlines (as hard as she tries to avoid it). Though, her relationship with her boyfriend Joe Alwyn has definitely been kept pretty because the couple is keeping things super private.
So, that brings me back to the big question, could the lyrics be about Alwyn? Well, there just isn't enough evidence to support that theory. However, upon taking a hard listen to "The Archer" I think Swift is talking about something even more personal than her love life: her own struggles with herself. Didn't see that coming now, did you?
If you really take a good listen to the lyrics, you'll find that throughout the entire song, Swift is looking inward. When she sings "I've been the archer, I've been the prey," it seems like Swift could be referring to her many famous feuds, and seemingly owning up to the idea that she may have played a role in exacerbating some of them.
In verse 2, Swift sings, "But what if I'm alright, right, right, right here?" and follows up with the popular idiom, "And I cut off my nose just to spite my face." That expression is used when someone overreacts to a problem in a needlessly self-destructive way. She finishes off the verse like this, "Then I hate my reflection for years and years."
Altogether, the verse sounds like she is acknowledging that she may not have always responded to conflicts in the most productive way. None of us are perfect and I think that's truly mature of Swift. It's also really deep. And apparently, Swifties can barely handle it.
"The Archer is so heartbreakingly beautiful," wrote one fan on Twitter. "Listening to Taylor reflect on her guilt of hurting people and also times she's been hurt as well..it's just so relatable and so sad." Yeah, and deep!
"Idk why but I can't stop the tears??? Like, damn Taylor what did you have to do this to me," tweeted another. Probably for all of our own good. #Growth
One fan just truly appreciated the reflective nature of the track: "I love how Taylor empathize with our feelings while at the same time, encourage us not to let our emotions eat us #TheArcher." Same Swiftie, same.
In "The Archer," Swift seems to have matured in such a deep and reflective manner. I'm proud and also impressed. I can only imagine what other gems will be on Lover, which will be released on August 23. Until then, I'm going to play "The Archer" and contemplate how to right all my wrongs.