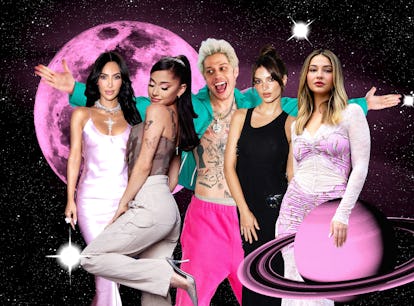 Here's The Pete Davidson GF You Are, Based On Your Zodiac Sign
Each of his famous rumored 'ships aligns with a different sun sign.
Elite Daily; Getty Images
Pete Davidson's love life is truly the gift that keeps on giving. Whether he's shading his famous ex in a comedy bit or poking fun at his latest dating faux pas on Saturday Night Live, Davidson always seems willing to spill the tea — even if it's at his own expense. You don't become the king of BDE by accident, after all.
The now-29-year-old was brought onto SNL in 2014. In the years since, he has been linked to 12 different high-profile women, including his latest relationship with Madelyn Cline, whom he reportedly began seeing in September.
For a Scorpio like Davidson, it's second nature to fall in love intensely and passionately. Every one of his romances has been unique in its own way, just like the 12 zodiac signs. And according to Elite Daily's resident astrologer, Chelsea Jackson, each of the comedian's rumored flings or confirmed relationships lines up pretty perfectly with an astrological sign. For example, his Kim Kardashian romance screams Leo energy, while his engagement to Ariana Grande fits the Cancer label to a T.
Curious where you fall on the astrological chart of Davidson's past? Here's the 'ship that will speak the most to you, based on your zodiac sign.