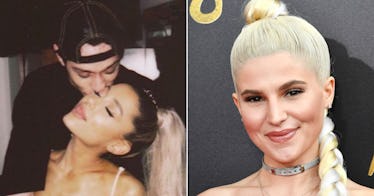 Pete Davidson's Ex Had The Funniest Response To His Reported Engagement To Ariana Grande
Ariana Grande on Instagram/Frazer Harrison/Getty Images
Ever since news of Ariana Grande and Pete Davidson's reported engagement broke on June 11, I have been dying to know how their exes reacted. What did Mac Miller say?! Cazzie David? I want to hear from her too! Watching your ex get engaged can be one of three things: heartbreaking because you're still not over them, happy because you've moved on, or, if you're Pete Davidson's ex-girlfriend Carly Aquilino, hilarious because they got engaged, like, two minutes after they started dating this new person. Carly Aquilino's response to Pete Davidson's reported engagement is that #relatablecontent and it's so funny.
The news of Grande and Davidson's reported engagement first surfaced on Monday, June 11, when a source told Us Weekly that Davidson proposed. "They are a perfect fit," the source said. "They are not rushing to get married. Their friends are really excited and supportive." Elite Daily reached out to Grande and Davidson's teams for comment, but did not hear back by the time of publication. And the new couple may not be rushing to get married, but they sure as hell are rushing to get engaged... I'm just sayin'. The pair only started dating in May, just a few short weeks after Ariana Grande and Mac Miller broke up and Pete Davidson and Cazzie David split. Davidson and David were together for about two years before they split.
Davidson dated Girl Code's Carly Aquilino before he dated Cazzie David. Aquilino seems to have responded to Davidson and Grande's engagement, and it's so freaking relatable. On Monday, June 11, the same day we learned of the Petiana (this is literally the best celebrity couple name I could come up with for these two... they should call it quits for this reason alone) engagement news, Aquilino posted a screenshot of a text she received from a friend. The text doesn't explicitly reference the engagement news, but it's pretty safe to assume that's what they were talking about.
The text said, "I know I'm the 9 billionth person to text you about this, but... I can't."
Aquilino responded to the text laughing, then posted a screenshot to her Instagram story with a caption that read, "MY DAY IN A TEXT MESSAGE."
She then posted a screenshot of a WhatsApp convo to give us all an update on how her love life is going.
The convo showed Aquilino had sent a red heart emoji to an apparent ~love interest~, but they didn't respond, which prompted Aquilino to say, "damn ok." She captioned the screenshot "MY LOVE LIFE GOING GREAT" and added a bunch of perfectly selected GIFs. Basically, what we're seeing here is Ariana Grande got Pete Davidson to propose to her after dating for two weeks and Carly Aquilino (quite literally) can't even get a text back.
As for Cazzie David, some people think she posted her reaction to Davidson's rushed engagement on her Instagram.
She posted this selfie of her drinking a glass of wine on Monday, June 11.
The caption read, "Came to wine country a person, leaving a human bottle of wine." Now, this could very well be a reaction to her ex getting engaged. (If my ex got engaged after three weeks to a woman he started dating not long after he dumped me, I would turn myself into a human bottle of wine as well.) But David posted this selfie around 2 p.m. on Monday, June 11, and the news of Grande and Davidson's engagement didn't break until around 4 p.m., so it seems like this post wasn't intended to be a reaction to the news — it just ended up perfectly fitting into that narrative.
It's possible David knew about the engagement before the rest of the world did, however, so maybe this was her reaction. We won't know unless she clarifies herself.
When Grande and Davidson first started dating (two minutes ago), David seemingly responded to their relationship on her Instagram.
She posted a photo of herself in a car in Africa (looking fab, I might add) saying, "Been in Africa, what'd I miss ??" The composure of this woman is iconic.
There are lots of people on Twitter siding with David through all of this.
Do Carly Aquilino and Cazzie David have each other's numbers? I think they should chat. And then post screenshots of said chat. K, thx!