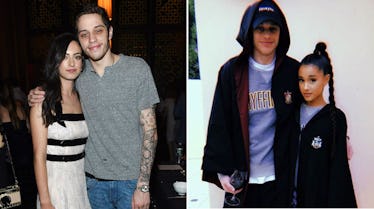 Pete Davidson's Ex Cazzie David Subtly Addressed His Relationship With Ariana Grande
Jamie McCarthy/Getty Images Entertainment & Instagram/Pete Davidson
Dating is hard enough when you aren't a celebrity, so I can imagine having a couple million extra opinionated eyes on you and your love life is really intimidating. Comedian Pete Davidson is at the center of pop fandom's attention right now since his recent split with Larry David's daughter, Cazzie David, and the beginning of his new relationship with pop-icon Ariana Grande. Some people have been wondering how his ex is feeling about the quick turnaround, and the truth is Cazzie David's response to Pete Davidson dating Ariana Grande is just about as perfect as they come. Gee, almost like celebrities are capable of being sane, clear-headed humans, too. Hm.
Davidson and David split in May 2018 after roughly two years of dating. Over the course of their relationship, Davidson seemed truly smitten and regularly sang David's praises. He once told Entertainment Tonight, "She's the most beautiful girl in the world... Look how lucky I am! She's so smart. She is a very, very wonderful lady." Flash forward to Wednesday, May 16, and Davidson told Complex's Open Late with Peter Rosenberg he and David were "not together anymore." Davidson added David is a "very talented girl" and said, "she'll be great and she'll be fine."
Just a week later it was revealed he and Grande had started seeing each other. To add fuel to the love-life fire, Grande also just split up with her long-term boyfriend, Mac Miller. Originally, fans were devastated but pivoted pretty quickly when they heard Grande was with Davidson.
All of this to say, it's been a busy few weeks for these young famous folks.
David remained suspiciously quiet in the days and weeks following the news of her ex and Grande's union. With Davidson and Grande's flirty Instagram antics on full display, fans expected David to address the relationship much sooner than she did. But oooooh, the wait was totally worth it. Fans now know she was just planning a sweet, little, perfect return.
Over the weekend of June 1st, David shared a stunning photo of herself in an open-roofed vehicle somewhere in Africa. She captioned the image, "Been in Africa, what'd I miss ??"
Sure, some people might interpret the sarcasm as shade, but I think it says, "I'm out here living my own best life and I'm totally unaffected by the drama you guys are trying to start." Hell yes, Queen.
David posted a picture with Davidson as recently as May 1st with the caption "bffs." Sure, it was pre-split (as far as we know), but based on the timeline it's safe to assume things were already wrapping up by this time. Hopefully, the good-natured post is a sign that she and Davidson ended things on good terms.
As for Davidson, he confirmed the rumors about himself and Grande on Thursday, May 31, by sharing a Harry Potter themed image of himself and the "No Tears Left To Cry" singer with the caption: "the chamber of secrets has been opened..." Since then, it's been revealed he already has two Ariana Grande themed tattoos: One is her famous Dangerous Woman bunny mask behind his ear and the other is her initials on his thumb.
Moving fast, much?
To be fair, Grande seems to be on the exact same page with her feelings for Davidson. Just a day after he outed them as a couple, Grande shared an intimate picture of Davidson wrapping his arms around her and kissing her on the cheek. She captioned the photo, "i thought u into my life 💭 woah ! look at my mind 💡⚡️🙈"
Ah, young, famous love. If you are still having issues getting on board the Grande/Davidson love train, then take a lap. If Cazzie David can go live her best life, so can you.
Check out the entire Gen Why series and other videos on Facebook and the Bustle app across Apple TV, Roku, and Amazon Fire TV.