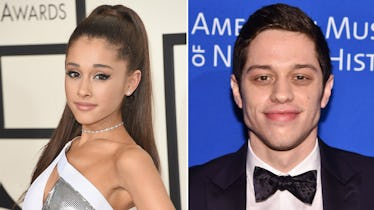 Ariana Grande's Comment On Pete Davidson's Pic Of Them Is So, So Bad
Jason Merritt & Michael Loccisano/Getty Images Entertainment/Getty Images
Welcome to a world where pop star Ariana Grande and Saturday Night Live comedian Pete Davidson are maybe together. How do I know it's probably the real deal? Oh, because Davidson posted a picture of the two of them dressed up in Harry Potter costumes on his Instagram. Duh. However, if anything was left unclear, Grande's comment nearly confirms it. Ariana Grande's comment on Pete Davidson's photo of them is actually kind of dirty, and yes, fans are here for it. Elite Daily reached out to both Grande and Davidson's teams for comment on their relationship status but did not hear back by the time of publication.
A lot has happened in Grande's love life in the past few weeks. Fans were initially stunned to hear she and her long-term boyfriend Mac Miller (aka Malcolm McCormick) called it quits, and were equally shocked when she seemingly moved on right into the arms of Davidson. Rumors began circulating about her and Davidson shortly after the news about her breakup, though one source told E! News "it just started and it's casual." Elite Daily reached out to both Grande and Davidson's teams for comment on this report, but did not hear back by the time of publication.
Grande confirmed she and Davidson are, at least, hanging out when she posted a video of their hands roasting marshmallows on her Instagram story over Memorial Weekend. Now, they seem truly Instagram-official thanks to Davidson's latest photo.
On May 30, Davidson shared a Harry Potter themed picture with zero-point-zero context, but did reference the dating rumors with a "punny" caption. He wrote: "the chamber of secrets has been opened..."
However, the real jaw-dropper came when Grande left a "punny" comment of her own. In keeping with the Harry Potter theme, Grande wrote, "u tryna slytherin (i'm deleting my account now)."
Get it??? Slither-in? Little raunchy, don't ya think? Whether this is an inside joke or just some very particular word-play, one thing is clear. These two seem to be together. While some people might still be mourning Grande's Mac Miller romance, I say onwards. Accio new relationships and experiences!
Initially, reports say Davidson caught heat from Grande's fans because of his diagnoses of borderline personality disorder. In response, Davidson penned a thoughtful message and shared it on his Instagram story. Included in his comment Davidson addressed the stigma around mental health and how others dealing with BPD can seek help. Here wrote:
i been hearing a lot of 'people with bpd can't be in relationships' talk. i just wanna let you know that's not true. just because someone has a mental illness does not mean they can't be happy and in a relationship. it also doesn't mean that person makes the relationship toxic. everyone is different and there are a lot of treatments for mental illness and i have done / am doing them. and i encourage those who struggle to seek help as well it has changed my life for the better. i just think it's f*cked up to stigmatize people as crazy and say that they are unable to do stuff that anyone can do. it's not their fault and it's the wrong awy for people to look at thing...
... Mental illness is not a joke[,] it's a real thing... For all those struggling[,] I want you to know that I love you and I understand you and it is going to be okay. That's all. Love to everyone else
Three cheers for normalizing and de-stigmatizing mental health!
And, can I be honest? A Harry Potter hangout with Ariana Grande and Pete Davidson sounds like a dream I didn't know I had. I'm kind of living for whatever these two do together next.
Check out the entire Gen Why series and other videos on Facebook and the Bustle app across Apple TV, Roku, and Amazon Fire TV.