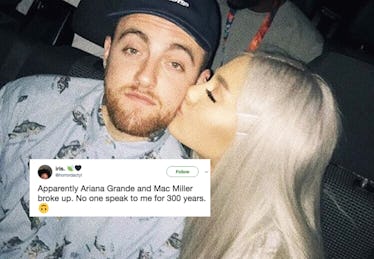 Ariana Grande & Mac Miller Broke Up, So Excuse Me While I Go Cry Hysterically
Instagram/Ariana Grande, Twitter
I hate the way this makes me feel. I have all the tears left to cry. I have so many more problems. This is the part when I break down. There are not enough Ariana Grande puns in the world to accurately convey my heartbreak over the fact that Ariana Grande and Mac Miller broke up after two years of dating. Ugh, that hurt to type. My poor fingers. According to TMZ, Grande and Miller amicably called their relationship off due to their conflicting work schedules. Elite Daily reached out to Grande and Mac Miller's teams for confirmation on the report but did not hear back by the time of publication. They reportedly are still remaining close friends and "love each other dearly," but that doesn't make me feel any better. Yes, this is real, guys. Ariana Grande and Mac Miller are no more. Another celebrity relationship bites the dust.
It's not clear whether or not this breakup happened recently, or if the pair called things off a while ago and we're just now being brought up to speed. But between Channing Tatum and Jenna Dewan's separation and now this, it's not a good time to be stanning seemingly strong celebrity relationships. *Sobs into my pillow.* Fans are heartbroken over the breakup because this was one of those celebrity relationships where the two were clearly such a good fit for each other and it was just all love. That's what's making it so hard for some fans to believe that they couldn't make it work.
Honestly, if Ariana Grande and Mac Miller, who were one of the least problematic and most loving celeb couples in the game, can't make it, my hope for other celeb couples is dwindling.
Fans are pretty much in disbelief over this breakup.
Someone put Chrissy Teigen and John Legend in a safe place where no harm can come to their marriage! We must protect them at all costs!
Maciana, as fans lovingly called them, had a super supportive relationship and their chemistry was just off the charts. I mean, just watch this video of them performing "My Favorite Part" together.
And this video of them performing "The Way" at the One Love Manchester benefit concert last year.
I really need to stop watching these videos because they're starting to cause me a lot of pain.
There are a few things I need to know before I retreat into my pit of despair for the remainder of the day, though...
1. Why, god, why? Look at these angels! Someone make their schedules coincide better right this instant or so help me!
2. Were they broken up when Mac Miller tweeted the sweetest reaction to Ariana Grande's "No Tears Left To Cry?" Tell me!
When "No Tears Left To Cry" dropped, Miller tweeted, "Very proud of this girl right here. Welcome back. We missed you. One of a kind," and now I want to throw up.
The single marked a huge milestone for Grande, seeing as it was her return to music following the terrorist attack that killed 22 people during her concert in Manchester, England, on May 22, 2017. Grande made it out of the venue safely and returned home to Florida the day after. Mac Miller was waiting for Grande on the tarmac when her plane got in.
3. Is this a damn prank?
I honestly don't know what to do with this information. Am I supposed to be comforted that they're still friends?! Am I supposed to hold out hope that they'll get back together when their lives aren't as hectic?! How do I liveeeeeeee without them? I want to know.
Because I'm a masochist, let's stroll down memory lane at their OG cute moment: The music video for "The Way."
The song starts off with Miller rapping,
Say, I'm thinking 'bout her every second, every hour / Do my singing in the shower / Picking petals off the flowers like / Do she love me, do she love me not? (love me not) / I ain't a player, I just crush a lot (crush a lot).
Then Grande comes in singing,
You give me that kind of something / Want it all the time, need it everyday / On a scale of one to ten I'm at 100 / Never get enough, I can't stay away.
OK... maybe it's a bad idea to read through these lyrics. Oh well! We're in too deep! The pre-chorus and chorus go:
I got a bad boy, I must admit it / You got my heart, don't know how you did it / And I don't care who sees it babe / I don't wanna hide the way I feel when you're next to me.
I love the way (you make me feel) / I love the way (I love it) / Baby, I love the way (you make me feel) / Ooh, I love the way (I love it) the way you love me
This song and the video came out five years ago. The two weren't even dating at the time when the song was made. They just clearly had some wild chemistry. I remember watching the video for the first time and shipping them immediately. But now... that ship has sailed. RIP, Maciana.