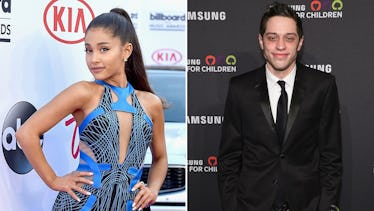 Here's The Ultimate Timeline Of Ariana Grande & Pete Davidson's Relationship
David Becker/Bryan Bedder/Getty Images Entertainment/Getty Images
Where were you the moment you heard that Ariana Grande and Pete Davidson were reportedly dating? When I heard that news, I had to do a double take because I didn't realize that the two even knew each other. But then I found out that they did in fact know each other after meeting over a year ago. Where the hell was I? What was I doing when all of this went down? Maybe I overlooked the entire thing because both respectively had their own significant others when they formally met. But hey, true love knows no time frame, amirite? To help you, my dear reader, understand Ariana Grande and Pete Davidson's relationship timeline, I've decided to dig deep on the internet to bring you everything you need to know about this new reported couple.
While we haven't gotten any concrete confirmation from either party that the two are official, E! News reported on May 21 that Grande and Davidson are an item, with a source close to the pair telling the site, "It just started and is casual." Elite Daily reached out to both Grande and Davidson's teams for comment on this new report, but did not hear back by the time of publication. So, even though we can't say with 100 percent certainty that these two are dating, by the end of their timeline, you'll see it's somewhat obvious that there's *something* going on.
March 2016
Let's rewind back to a time where life was pure and nobody questioned anything. That time is March of 2016, and Ariana Grande was hosting an episode of Saturday Night Life. And guess who was also there? That's right, Pete Davidson (because that's his job). Davidson ended up joining her onstage towards the end of Grande's performance, jokingly asking, "Do you want to smoke some pot or something?" And that, my friends, is seemingly how it all began — much like so, so many other romances of our time.
If marijuana is the thing that unites two lovers, so be it.
But let's keep in mind: During that timeframe, Grande was still dating rapper Mac Miller, and Davidson was dating Larry David's daughter, Cazzie David. We of course now know that Grande and Miller broke up a few weeks back, and Davidson ended things with David as well, telling Complex, "We're not together anymore."
Between then and now, though, there's truly not that much that the public knows about their relationship. Maybe they were just friends for years and it turned into something more? Maybe they both coincidentally broke up with both of their partners and realized they had the hots for each other? Who knows. Well, Ariana and Pete know, but they're not returning my calls. So let's fast forward to present day.
Early May 2018
May was a pretty big month for the reported couple. Yes, that's when we all found out about their ~thing~, but back in early May, before we even knew about any of this, there were a few events that they both attended on the down-low. To keep things unreported even for a DAY when you're a celebrity is pretty impressive, so kudos to them being sneaky.
According to the New York Daily News, Grande stopped by Amy Schumer's SNL after-party on May 13 to hang out with — yep, you guessed it — Pete Davidson. But it seems that it wasn't only Davidson that she was there to meet, because it's reported that his mom (who was featured on the SNL episode) was there, too, meaning if this report is true, Ariana Grande has already been introduced to his family, which is actually kind of adorable.
Then, on May 20, Grande opened for the Billboard Music Awards in Las Vegas, where People reported that Davidson was backstage cheering her on. An onlooker told the site,
After Ariana's performance, they were backstage and he had his arm around her. They seemed very lovey-dovey. He was hanging out with her and her friends with his arm around her. She seemed quite smitten.
C'mon, this is hella cute!
Late May 2018
And that brings us to our most recent little moment the duo had, which is probably my absolute favorite of the bunch. On May 30, Davidson took to Instagram to show a photo of himself and Grande standing next to each other in HOGWARTS ROBES. So, not only is this the first picture that we have of the reported couple together, but it has a Harry Potter theme, so basically, I'm done.
Davidson captioned the shot, "the chamber of secrets has been opened ...", and you literally cannot tell me that there is a more pure photo that exists on the internet:
Seriously, let's just all go home now. I think we've seen sufficient evidence here that Ariana Grande and Pete Davidson make the cutest couple, and their history only backs it up.