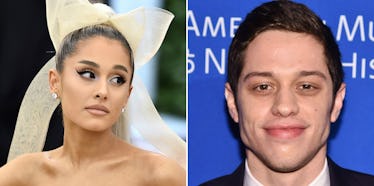 Ariana Grande & Pete Davidson Have Reportedly Called Off Their Engagement
Theo Wargo/Michael Loccisano/Getty Images
Things that start fast, end fast. The moment we all had a feeling would come has finally come: Ariana Grande and Pete Davidson have broken up, per a TMZ report. That's right, people, the roller coaster has finally come to an abrupt stop. The wedding is off, the relationship is off, and the new tattoos have come to a halt. Elite Daily reached out to both Grande's and Davidson's teams for comment on the reported breakup, but did not hear back by the time of publication.
Grande and Davidson reportedly called it quits, People confirmed in a report on Sunday, Oct. 14. They infamously got engaged in June after just a few weeks of dating. Regarding the breakup, a source told TMZ, that they split during the weekend of Friday, Oct. 12, but there might not be any bad blood there. Per TMZ's source, this reportedly just "wasn't the right time for their relationship to take off." With ending the engagement, things are "over romantically," the source said. But the source reiterated that there is still love between them.
There were a few signs recently that there might be trouble in their relationship. Fans speculated about a possible breakup when Davidson was spotted on Saturday Night Live's Oct. 6 episode with a new black heart covering up his previous bunny mask tattoo.
At the time, any reports of trouble in AG and PD paradise were put to rest by a report from People that the couple apparently went through with the process of finalizing a prenuptial agreement.
Grande also pulled out of a regularly scheduled performance on Saturday, Oct. 13. She was slated to perform at a cancer benefit, but her manager, Scooter Braun, took to the stage on Saturday night to let the audience know that Grand wouldn't be able to perform as scheduled. Talking to the audience, Braun began, "One of the most amazing things about this organization is that they help people when they're having the worst moments in their life, and they give sympathy and a calm nature to people in need in those moments."
Braun continued to apparently explain Grande's absence,
And you saw your invite, someone I'm very close to was supposed to come sing for you today, and because of things that she's going through, she couldn't be here today.
Fans were looking forward to see Grande in her first public performance since news broke of her ex-boyfriend Mac Miller's untimely passing, but she reportedly needed more time. Braun concluded,
And while I was frustrated, being the manager, my wife, being who she always is, just looked at me and she goes, 'She needs this time.'
Elite Daily reached out to Ariana Grande's manager about the reason for her cancelation, but didn't hear back by the time of publication. Seeing as though the new reports of her breakup with Pete Davidson have come out on Sunday, it looks like Grande might have needed time to herself for more than one reason.
I hope Grande takes all the time she needs. I know her Arianators will be there whenever she needs them.