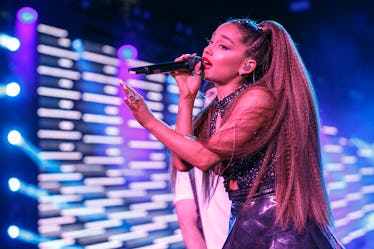 Here's What We Know About Ariana Grande's First Performance After Mac Miller's Death
Rich Polk/Getty Images Entertainment/Getty Images
With the anniversary of the 2017 Manchester attack at her concert and the sudden death of her ex boyfriend Mac Miller in September, Ariana Grande has been taking some much-needed time away from the spotlight to recharge and mend. That was all scheduled to change on Saturday, Oct. 14, when the songstress was due to make her return to the stage with a highly-anticipated performance at F--k Cancer's very first Barbara Berlanti Heroes fundraising gala. So, did Ariana Grande perform at her scheduled cancer benefit? Per reports, the Sweetener hitmaker was unfortunately forced to pull out of the show just hours before due to emotional reasons, and fans are rallying around her to show their support. Elite Daily reached out to Ariana Grande's manager about the reports, but didn't hear back by the time of publication.
On Saturday night, Grande's manager Scotter Braun took to the stage to explain her absence at the benefit. The 25-year-old was originally slated to perform a duet from Broadway classic Wicked with Kristen Chenoweth, according to E! News. Addressing the audience, Braun began, "One of the most amazing things about this organization is that they help people when they're having the worst moments in their life, and they give sympathy and a calm nature to people in need in those moments."
Referencing Grande's highly-anticipated appearance, which would have been her first public performance since news broke of Miller's untimely passing, Braun continued, "And you saw your invite, someone I'm very close to was supposed to come sing for you today, and because of things that she's going through, she couldn't be here today."
He concluded, "And while I was frustrated, being the manager, my wife, being who she always is, just looked at me and she goes, 'She needs this time.'"
This is the second time that the "God Is A Woman" singer has pulled out of a scheduled performance since announcing she was taking a break from fame to "heal and mend" on Sept. 17. She decided not to perform for SNL's first night back on the air due to "emotional reasons," and her spot was replaced by a controversial appearance from a Perrier bottle-wearing Kanye West. In both cases, the respective shows have gone on without a hitch. At the benefit on Oct. 14, Trevor Noah filled in with a comedy act and Chenoweth performed "Bring Him Home" from Les Misérables instead of their planned duet, according to E! News.
While Grande's loyal Arianators have been eager to see her return to the spotlight and perform music off her latest album on a Sweetener tour, they've also been understanding of her mental state and advising her to take as much time for herself as she needs before returning. The songstress has been taking to Twitter to interact with her fans and promise that her break from the spotlight won't last much longer. On Oct. 8, Grande apologized to her fans for the delay in releasing a music video for "Breathin,'" tweeting "Don't kill me i took some time off bc i was real sad and we didn't expect the record to pop off like this. I love u. don't kill me pls. i'm on it. promise."
Fans flooded the comments section with messages of support and love, to which Grande responded, "I'm feeling sm better lately and this music is sick i'm so happy i love u."
In the comments section, the singer also seemed to confirm that she will be performing at her scheduled concert at Las Vegas's Cosmopolitan Hotel on Dec. 29, although it's unclear if that plan is still in the works after her latest cancellation. Elite Daily reached out to Ariana Grande's manager to inquire if there were any more changes to her schedule, but didn't hear back by the time of publication. Currently, the songstress's next performance is slated to be alongside Idina Menzel and Kristen Chenoweth for NBC's A Very Wicked Halloween: Celebrating 15 Years on Broadway, which would air as soon as Oct. 29.
From the sounds of things, Grande is still taking things day by day, so there's no telling whether she'll be heading back onstage sooner or later. But either way, it looks like her Arianators have got her back.