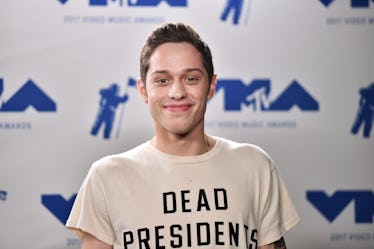 Pete Davidson May Have Covered Up One Of His Ariana Grande Tattoos, But What Does It Mean?
Alberto E. Rodriguez/Getty Images Entertainment/Getty Images
Something strange is going on with one of Pete Davidson's tattoos. On the Oct. 6 episode of Saturday Night Live, it appeared that the 24-year-old comedian covered his black bunny mask tattoo (often associated with his fiancée, Ariana Grande) with a heart. An eagle-eyed fan spotted the change in that tattoo's appearance and posted a screenshot on Twitter. So now fans are asking one important question: did Pete Davidson cover up his Ariana Grande tattoo? Well, if fan speculation is anything to go by, then it's possible that he might have. Elite Daily reached out to Davidson's team for confirmation but did not hear back by the time of publication.
The tattoo in question is of the black bunny mask Grande is so famous for. Back in June, Davidson had the bunny mask tattooed right behind his ear. That was right around the time it was revealed that Davidson and Grande were engaged after just a few weeks of dating. While much of the world thought Davidson and Grande were moving too fast, the two young stars seemed confident in their decision to commit to one another.
But now that news of Davidson's alleged tattoo cover-up has hit the media, fans are second-guessing that commitment, even if Grande and Davidson don't appear to be at the moment.
Here's the screenshot taken by a fan and posted to Twitter:
And here's a closer look at the tattoo, which appears to have an "a" next to it now.
So, has Davidson officially covered up the tattoo? And if so, does that mean he's having regrets about getting it?
In all honesty, probably not. In a recent report from People, a source close to the couple revealed that they're going ahead with their marriage and finalizing their prenuptial agreement.
Davidson himself opened up about the possibility of a prenup on a recent episode of SNL.
"Obviously I wanted one, you know, so God forbid we split up and then she takes half my sneakers," Davidson said to co-star Colin Jost during the season premiere of SNL. "No look, I'm totally comfortable being with a successful woman. I think it's dope. I live at her place. She pays like 60 grand for rent, and all I have to do is, like, stock the fridge."
Davidson also joked about how he makes sure Grande will stick around for a long time to come.
"Last night I switched her birth control with Tic Tacs," he said. "I believe in us and all, but you know, I just want to make sure that she can't go anywhere."
Although it's debatable whether Davidson's joke about birth control is actually funny, it's clear that he's totally committed to keeping Grande around. So, I think it's probably safe to say that if he did cover up his tattoo, it was for some reason other than romantic woes.
All that stuff side, though, maybe Davidson possibly covering up his tattoo doesn't actually mean anything. Maybe he just felt like doing something different. Whatever the case, all seems to be find between everyone's favorite celeb couple.