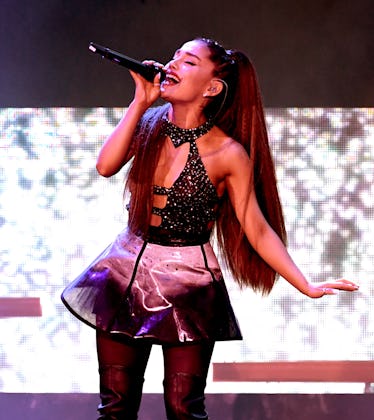 These Lyrics To Ariana Grande's "Thank U, Next" Open Up About The Pete Davidson Breakup
Kevin Winter/Getty Images Entertainment/Getty Images
According to her newest breakup anthem, Ariana Grande has no tears left to cry for the men of her past, including ex-fiancé Pete Davidson. After hours of teasing fans with snippets of "Thank U, Next" on Twitter, the songstress dropped the track on Saturday, Nov. 3, and it's so revealing. While name-dropping former flames Pete, Mac Miller, Big Sean, and even Ricky Alvarez, Ariana Grande's "Thank U, Next" lyrics share unexpected details about her past relationships as well as how far she's come, and it's the empowering single you didn't know you needed.
On Saturday, Grande appeared to have timed the reveal of the highly-anticipated "Thank U, Next" with the airing of ex-boyfriend Pete Davidson's Saturday Night Live appearance that evening. And while things have been tense between the pair in light of a contentious SNL promo, which showed Davidson making a joke about their breaking way too soon, the lyrics from the songstress's latest song show that she has no hard feelings about things not working out.
The 25-year-old wastes no time calling out her exes with references in the first few lines to her last four relationships. She sings:
Thought I'd end up with Sean / But he wasn't a match / Wrote some songs about Ricky / Now I listen and laugh / Even almost got married / And for Pete, I'm so thankful / Wish I could say, "Thank you" to Malcolm / 'Cause he was an angel.
Reflecting on the failed relationships, Grande then sings about what she learned from her past loves, namely love, patience, and pain, and fans are already speculating who she's talking about when she sings,
One taught me love / One taught me patience / And one taught me pain / Now, I'm so amazing / I've loved and I've lost.
According to Lyric Genius, Grande could be referring to Mac Miller for teaching her about pain, as she's previously opened up about how their relationship was "toxic." It's less clear whom she credits with teaching her patience and love, although the site believes her and Davidson's differences in personality could have helped instill patience. It's still up in the air who Grande says "taught [her] love," although Ricky Alvarez is the earliest boyfriend on the list and could be a contender. Elite Daily reached out to Grande's rep for clarification on who she was referring to with her different lyrics, but did not hear back by the time of publication.
While Grande does bring her last four exes into the mix, the crux of the single is all about self-love, and it's pretty empowering. TBH, I think many of us would have loved a track like this to play on repeat and remind us to focus on ourselves while going through a particularly tough breakup. After "thanking" her former boyfriends for the lessons they taught her, Ari teases that she has a new love interest: herself. She sings,
She taught me love (Love) / She taught me patience (Patience) / And she handles pain (Pain).
Basically, Grande is saying that through the process of heartbreak, she's found herself.
Minutes after the song's release, one of its subjects, Pete Davidson, revealed that he was also "feeling grateful" for what he and the singer shared during their whirlwind romance. In an appearance on Saturday Night Live, the comedian seemed like he was done cracking jokes about their ended relationship.
"I know some of you are curious about the breakup, but the truth is it's nobody's business and sometimes things just don't work out," he told the audience. "And that's okay. She's a wonderful, strong person and I genuinely wish her all the happiness in the world."
If you can't stop playing "Thank U, Next" on repeat, stay tuned for Grande's upcoming album, which I'm sure will offer even more catchy and empowering lyrics all about moving on and loving yourself.