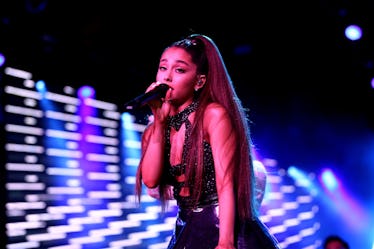 Ariana Granda Just Apparently Revealed That New Music Is On The Way & I Can't Wait
Rich Polk/Getty Images Entertainment/Getty Images
Hours after publicly dragging her ex Pete Davidson for "clinging to relevancy" (ouch), Ariana Grande is back on Twitter with a few posts that she appears to be confirming are lyrics to a new song. From the sounds of things, she may be working through her recent breakup with music, and Ariana Grande's new song is apparently called "Thank U, Next," which makes me think that the chances of a reunion between her and Davidson are probably nil at this point. If you're still grieving the end of Gravidson, you could potentially be getting all the closure you need with her upcoming album that was being referred to as "AG5." Elite Daily reached out to Grande's rep to inquire as to whether the tweets are lyrics to a new song and whether her new track will indeed be titled "Thank U, Next," but did not hear back by the time of publication.
On Friday, Nov. 2, the "Side To Side" songstress appeared to be in a reflective mood as she took to Twitter to share three different tweets that, at first glance, seemed to be a shady reference to her Twitter exchange the night before. As a refresher, Grande appeared to directly confront her ex over referencing their ended engagement on a Thursday, Nov. 1 promo for SNL, first writing on Twitter, "For somebody who claims to hate relevancy u sure love clinging to it huh," then seemingly washing her hands of the whole situation with another tweet that said, "Thank u, next."
The next afternoon, it appeared that the night's events were still on her mind as she took to Twitter with some cryptic posts about moving on. She first wrote, "Cause look what i found .... ain't no need for searching and for that i say.... thank u, next," before continuing, "Got so much love..... got so much patience..... i've learnt from the pain .... and turnt out amazin.... say i've loved and i've lost..... but that's not what i see cause look what i got.... look what u taught me." She concluded her head-scratching Twitter spree with the line, "And for that i say ....... thank u, next."
While her tweets could seem pretty cryptic at face value, Arianators soon began speculating that her confusing messages were actually lyrics to an upcoming song about Pete Davidson, and the songstress didn't keep fans guessing for long. After sharing a few more lyric snippets, she seemingly confirmed that the Twitterverse had hit the nail on the head by responding to a user who referenced her 2016 diss track, "Knew Better," which is rumored to be about ex-boyfriend Ricky Alvarez.
"It's funny because ty,n is kinda the exact opposite of knew better but ..... you'll see," she wrote, appearing to confirm in one tweet that one, her upcoming song was indeed titled "Thank U, Next," and two, that despite her shady Twitter call-out a few nights before, she had no hard feelings for Davidson. Elite Daily reached out to Grande's rep to confirm that "Thank U, Next" is indeed about Davidson, but did not hear back by the time of publication.
In response to a fan who gushed, "A track about empowerment? i'm all here for it! i love you so much, your energy right now is AMAZING ma'am," she wrote back, "Exactly .... a new chapter gratitude, growth, embracing our path bumps n all .... thank u, next."
And just in case that wasn't clear enough, Grande further clarified that she has nothing but love for her ex, writing, "No drags.... no shade..... jus love, gratitude, acceptance, honesty, forgiveness ... and growth." OK, so maybe Ari and Pete getting back together is completely off the table at this point, but at least it sounds like she's taking the mature route when it comes to handling their breakup.
Plus, fans looking for multiple Ariana-approved breakup tracks to put on repeat might be in luck, because the singer hinted that, wait for it, a whole new album full of material will be gracing our ears sometime soon after she releases the single. If you thought Sweetener was amazing, something tells me that "Thank U, Next," as Grande seemed to confirm is the title of her upcoming compilation, will be everything you need. It's a lot of good news to process all at once, and I'm sure Arianators are rejoicing all around the world.
Now, if only Grande would spill exactly when we can expect to hear said-track and album, but I have a feeling she won't keep her fans waiting for long.