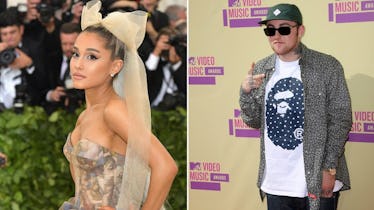 Fans Think This New Ariana Grande Song Is About Her Toxic Relationship With Mac Miller
NEILSON BARNARD/FREDERICK M. BROWN/GETTY IMAGES ENTERTAINMENT/GETTY IMAGES
Ariana Grande's latest studio album, Sweetener, is now available for purchase and fans are going wild over the album's new tracks. One track in particular, "Everytime", has lots of people talking. The lyrics to the song seemingly describe an ex-boyfriend, and they have Grande fans wondering if she could be referencing someone like Mac Miller. There hasn't been any confirmation whatsoever that the song is about him, but fans are latching on to the idea pretty quickly. So, is Ariana Grande's "Everytime" about Mac Miller? Well, taking a good look at the lyrics may answer that question.
First, let me give you a rundown of Grande's "Everytime": In the song, she sings about how she can't shake someone. Grande says she's tired of the guy, but she just can't let go.
In the first verse, Grande sings:
I get tired of your no-shows / You get tired of my control (yeah) / They keep telling me to let go / But I don't really let go when I say so (yeah, yeah, yeah, yeah) / I keep giving people blank stares (yeah) / I'm so different when you're not there (yeah, yeah) / It's like something out of Shakespeare (yeah) / Because I'm really not here when you're not there
Grande then sings in the chorus:
I've tried to fight our energy / But everytime I think I'm free (yeah, woo!) / You get high and call on the regular / I get weak and fall like a teenager / Why, oh why does God keep bringing me back to you? / I get drunk, pretend that I'm over it / Self-destruct, show up like an idiot / Why, oh why does God keep bringing me back to you?
Later on in the second verse, she sings:
Just when I get on a new wave (yeah) / Boy, you look at me and I slip outta my lace / They keep calling me a head-case / 'Cause I can't make a good case why we can't change
These lyrics weren't lost on Grande's fans. Many took to Twitter to theorize that the song is actually about Mac.
Grande has spoken out in the past about why she and Mac Miller ended their relationship. Back in May, she took to Twitter to defend herself after a fan blamed her for Miller's alleged DUI. The fan wrote, "Mac Miller totalling his G wagon and getting a DUI after Ariana Grande dumped him for another dude after he poured his heart out on a ten song album to her called the divine feminine is just the most heartbreaking thing happening in Hollywood." Grande was quick to reply, saying,
How absurd that you minimize female self-respect and self-worth by saying someone should stay in a toxic relationship because he wrote an album about them. I am not a babysitter or a mother and no woman should feel that they need to be. I have cared for him and tried to support his sobriety & prayed for his balance for years (and always will of course) but shaming/blaming women for a man's inability to keep his shit together is a very major problem. let's please stop doing that
Elite Daily has reached out to Mac Miller's team regarding the claims in Grande's tweet, but did not hear back by the time of publication.
While we may never know if "Everytime" is about Grande's past relationship with Miller, some of her fans certainly seem to think so.