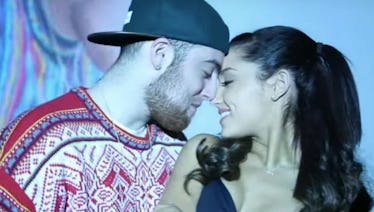 Ariana Grande Dragged A Fan Who Blamed Her For Her Ex Mac Miller's Alleged DUI
YOUTUBE
Ariana Grande split with rapper Mac Miller after Coachella, and I'm still not over it. But now the pint-sized pop star is firing back at a hater who tried to drag her on Twitter for her ex's behavior following the breakup. You guys seriously need to read what she wrote back to him because Ariana Grande's response to fans blaming her for Mac Miller's alleged DUI is feminist AF, and we all need to bow down ASAP.
"Mac Miller totalling his G wagon and getting a DUI after Ariana Grande dumped him for another dude after he poured his heart out on a ten song album to her called the divine feminine is just the most heartbreaking thing happening in Hollywood," the fan wrote.
And this is how Ari responded: "How absurd that you minimize female self-respect and self-worth by saying someone should stay in a toxic relationship because he wrote an album about them," she wrote. "I am not a babysitter or a mother and no woman should feel that they need to be. I have cared for him and tried to support his sobriety & prayed for his balance for years (and always will of course) but shaming/blaming women for a man's inability to keep his shit together is a very major problem. let's please stop doing that." Elite Daily has reached out to Mac Miller's team regarding the claims in Grande's tweet, but did not hear back by the time of publication.
Tell 'em, sis! Here's the thing: I don't think Grande should have had to defend herself here in the first place. But at the same time, I love her so much for taking a stand for all women and making the point that none of us should be blamed for stuff like this. Ever. Her response was so on point, in fact, that the dude who originally trolled her dialed it back big time and swiftly issued an apology. "Hey, I'm really sorry this is something you took the time to read and that upset you enough to make such a thoughtful reply," he began.
"First and foremost, I know nothing about your relationship and the heartache you both feel," he continued. "I in no way think that you are the cause of Mac's short comings we all have our demons to keep at bay and I truly worry about his well being just as a fan so I am sorry to minimize any of that or make it seem like a break up is a justifiable cause to go deep end. Finally, I had no idea this would go viral and get treated like a story on TMZ it truly doesn't go as deep as you're implying and I truly hope you and Mac get back to living your best lives as soon as possible. I'm very sorry I hurt you and I'm sorry you feel my tweet stigmatizes women for ending a toxic relationship that wasn't my intention at all. I think every woman is equal to a man and has the same exact right to pursue their happiness to the fullest despite the backlash they might receive, including you."
Wow. While an apology that contains the phrase "I'm sorry you feel" isn't necessarily the best apology, it does sound like this guy actually took Ari's words to heart and learned an important lesson about women. And it looks like Ari is the forgiving type, because she responded to the apology a few minutes later in the most classy way ever. "Thank you for hearing me," she wrote. "I appreciate your response v much. sending u love."
Thanks for spreading positivity instead of negativity while speaking up for women's rights, Ari! You are most definitely the feminist hero we all need.