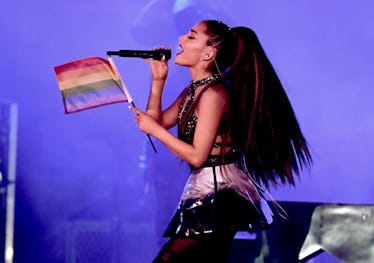 The Tracklist For Ariana Grande's New Album Will Get You Seriously Hyped For The Release
Kevin Winter/Getty Images Entertainment/Getty Images
It's the season of Ariana Grande. The newly engaged songstress, who's whirlwind courtship to Saturday Night Live star Pete Davidson dominated headlines for much of the summer, is set to release her highly-anticipated record, Sweetener. With a wedding in the works and her fourth studio good to go for August 17, it's pretty obvious Grande is soaring on the personal and professional front. And if her first three singles, "No Tears Left To Cry," "The Light Is Coming," and "God Is A Woman" are any indication of the success that's to come, get ready. Ariana Grande's Sweetener tracklist is here, and it's so good.
Official news of her post-hiatus project came in May, shortly before rumors of Pete and Ariana's romance first went public. While appearing on The Tonight Show Starring Jimmy Fallon, Grande announced the upcoming album, and wasted no time in dropping hints. "It's kind of about bringing light to a situation or to someone's life or somebody else brings light to your life," she dished on the meaning behind Sweetener.
In a series of Instagram posts published to the album's official account, the 15-song tracklist was revealed on July 15. Grande had already divulged "Raindrops" as the opener during her Tonight Show appearance, and the songs "No Tears Left To Cry," "God Is A Woman," and "The Light Is Coming" are currently available to stream.
In November 2017, while Grande was still in studio, her longtime manager Scooter Braun opened about Sweetener. "She has such an extraordinary voice and it's time for her to sing the songs that define her," he told Variety. "Whitney, Mariah, Adele … when they sing, that's their song. Ariana has big vocal moments; it's time for her song." Meanwhile, collaborator Pharrell Williams admitted to Women's Wear Daily:
Ariana Grande stuff is pretty amazing. The things that she has to say on this album, it's pretty next-level. Her album is amazing.
Williams wasn't kidding. Her first single off the album, "No Tears Left To Cry" was inspired by the terrorist attack that took place at her March 22, 2017 Manchester concert. In the music video, Grande pays tribute to the 22 victims with a symbolic bee.
According to TMZ, half of the project was produced by Pharrell, while the other half by Max Martin. Unlike previous records, all 15 songs were reportedly co-written by Grande, and as such, incredibly personal to the singer.
Despite collaborating with Nicki Minaj on "The Light Is Coming" (and past tracks), rumors of bad blood hit the web Thursday when Minaj's own album "Queen" was announced for the same release date. However, Grande was quick to shut it down. "That's my f*cking sister. she's clearing a sample," Ari tweeted. "Buy and stream queen & sweetener aug 17 bye. these numbers don't mean as much to the artist as they do to y'all."
Ariana has continued to countdown the album's release on social media, expressing her excitement for its August 17 drop on Twitter. "love u. sixteen days," she wrote. And while much of Sweetener was recorded prior to her relationship with Pete Davidson, Grande included a sweet dedication to her fiancé. Back in June, when fans first caught wind of a Davidson-inspired track, Grande admitted "life's too short to be cryptic n sh*t about something as beautiful as this love I'm in. so [Pete] it is." In recent weeks, the 25-year-old chose to rename the song to include his full name. When asked about the decision on Twitter, Grande explained:
i like the way it looks i love his name and i love him music lasts forever. it'll outlive any tattoo, any memory, any anything, even myself so i want my love for him and how i feel to be a part of that
I am so ready to cry my eyes out to all 15 Sweetener bops. Who's with me?