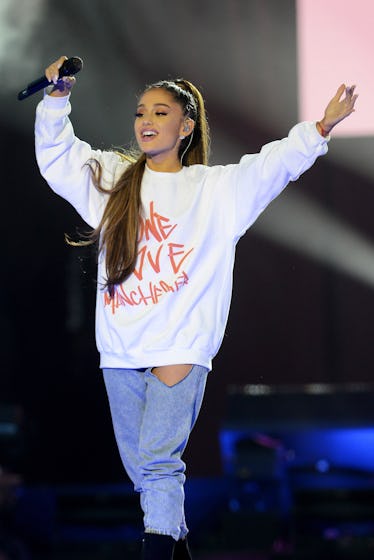 This Tiny Detail In Ariana Grande's New Video Is A Tribute To Manchester Victims
Getty Images/Getty Images Entertainment/Getty Images
It's is a BIG DAY for Arianators! At midnight on April 20, Ariana Grande dropped her brand new single called "No Tears Left To Cry," and she released the music video for the song as well. Let me just say, this jam is straight fire and I am OBSESSED. The video is pretty cool, too. It opens with the pop star belting out the lyrics in a killer black gown while the world spins around her. But it's what happens at the end of the video that will have you weeping. Because Ariana Grande's "No Tears Left To Cry" video has a much deeper meaning — it includes a tribute to the 22 people killed during the tragic attack at her May 2017 Manchester Arena concert. And now I'm just over here crying my eyes out.
It's been a rough year for Grande following the horrific attack, but in a September interview with Billboard, the singer shared that she wanted to continue making new music in light of the tragedy. Now, not only has she delivered on that promise, but she's using her powerful new song to honor the victims in such a beautiful way. While the song doesn't seem to be entirely about the Manchester attack, the lyrics definitely allude to the incident, as does one perfect little detail at the end: While Grande looks up and sings to the sky, a bee — a longtime symbol for Manchester — flies away past the camera.
Here's the video:
And here's a screenshot of the bee at the end (on the far right):
*Chills*
Following the incident, the bee was used to symbolize unity and strength, and many people, including Grande and her crew, got tattoos of the design permanently inked on their bodies.
Now, as Grande's fans begin to make the connection between what happened in Manchester and the bee at the end of the "No Tears" music video, they are taking to Twitter to express how touched they are by the singer's emotional, heart-wrenching tribute.
Such an outpouring of love — well done, Ari! The new song is fun and upbeat — it's one of those tunes you just love to drive around listening to and sing at the top of your lungs. And while the lyrics never address the Manchester attack directly, they do seem to be about trying to stay in a positive state of mind, despite what may be happening around you.
For example, check out the chorus, which Grande sings while hanging out in a starry sky and dancing on the side of skyscrapers:
Right now, I'm in a state of mind, I wanna be in, like, all the time. Ain't got no tears left to cry. So I'm pickin' it up, pickin' it up (oh yeah). I'm lovin', I'm livin', I'm pickin' it up. Oh, I just want you to come with me. We on another mentality. Ain't got no tears left to cry. So I'm pickin' it up, pickin' it up (oh yeah). I'm lovin', I'm livin', I'm pickin' it up
Grande may have no tears left to cry, but I cannot watch her video without weeping. And obviously, the sweet song has left a major impression on her fandom as well. Despite the fact that she's laid low for the past year — and, really, who could blame her? — I think it's pretty clear from the release of this new track that Grande is still, and always will be, a major queen. Welcome back, Ari — we missed you!