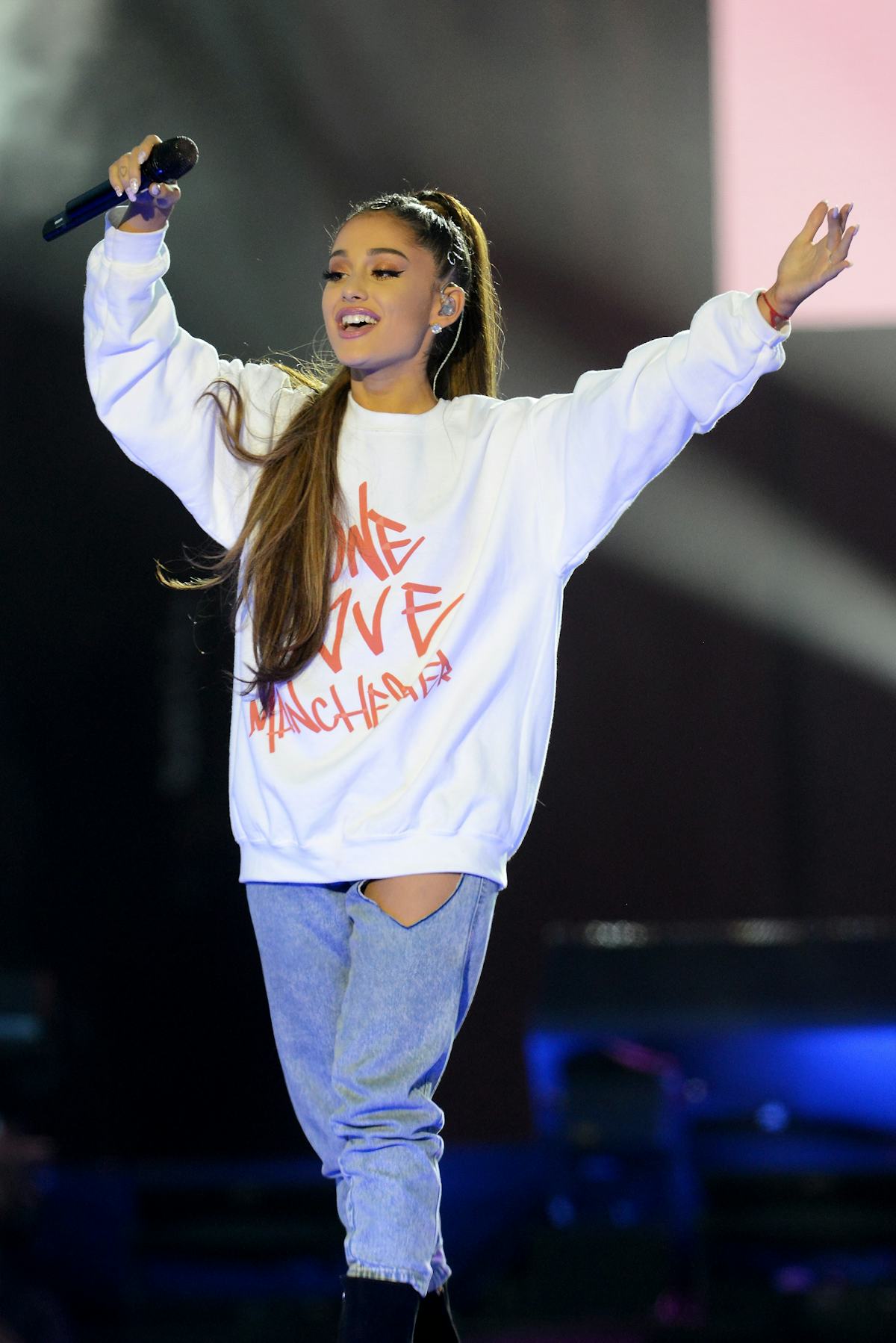 Ariana Grande Confirms She's Making New Music & We Seriously Can't Wait
Getty Images/Getty Images Entertainment/Getty Images
Is it just me, or is Ariana Grande the epitome of #lifegoals? Her music is incredible, her style is on point, and she rolls with an enviable squad – but as of recently, our girl has been keeping things pretty low-key. Until now! Ariana Grande delivered the ultimate mic drop to her fans after she took to Instagram Stories on Dec. 13 and shared a blurry screenshot of her in the studio that was reportedly taken from a fan's account. The caption read, "I'm pretty sure dis is very old or fake," and Grande added, "If u wanted confirmation that I've been workin why didn't you just ask?" Girl. Yes! Grande then posted a photo of a Polaroid picture of herself in what looks to be a music studio, getting some serious work done. If you're like me, your immediate next reaction (aside from jumping out of your seat and spilling your coffee) is to ask, "When is Ariana Grande's next album coming out?," because it's been over a year since her last album, Dangerous Woman, dropped, and I don't know about you, but I'm getting just a *bit* anxious for more.
While Grande didn't say when exactly her new music would be gracing our earbuds, she did at least send us some definitive proof that she's working on recording in the studio:
Before we even get to the fact that we now know that Grande is working on new music, can we just talk about how slamming she looks? That long blonde mane. That off-the-shoulder ensemble. That drink that is almost certainly a Starbucks Venti-looking Frappuccino drink.
Congratulations, Ariana Grande, you did it. You've officially won life.
Ugh. Let's all just take a moment to bow down to the queen of pop right now.
So, after seeing Grande's Instagram Story, fans were undoubtedly shook, and took to social media to let their Ari-freak flags fly, showing their unequivocal support for whatever new music Grande is working on:
One person said it best, telling the world that Ariana is "ready to save music," and "serve looks," and honestly he's NOT wrong:
In a September interview with Billboard, Grande shared that she wanted to continue making new music in light of the tragic explosion at her Manchester Arena concert in the U.K. in May of 2017. She chose to return to the city to play a benefit concert in honor of the victims and their families, and continued on with her Dangerous Woman tour, but spoke about how "challenging" it was for her personally:
It's been very challenging for all of us involved. So it would be nice to really hold my loved ones close for a little while, stay home for a little bit. But knowing me, I'm going to be in the studio because I love it, and I want to create. I started an album already a year ago, over a year ago, but I want to keep creating, and it's not done yet. So I'm going to take my sweet ass time, so I'll be rested and ready to go again as soon as possible.
While we totally respect the time Grande needs to work through the obstacles she faced this year, it's also exciting to see that she's motivated to give her fans new music that will obviously be powerful on many levels – and most likely damn-near perfect, because this is Ariana Grande we're talking about, people.
So, will we get a sample of what Ariana Grande is working on before the year is through? That remains to be seen, but you know damn well that I'll be over here refreshing all forms of Ariana-related social media *just* in case she blesses us with a musical holiday miracle.