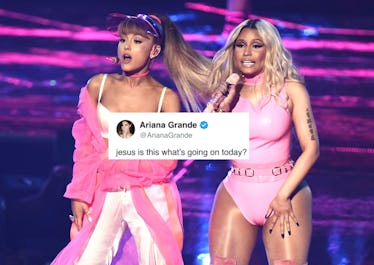 Ariana Grande Clapped Back At Fans Who Are Pissed Nicki Minaj Moved Her Album Release Date
Michael Loccisano/Getty Images Entertainment/Getty Images/Twitter
August is a big month for Ariana Grande and Nicki Minaj. The two artists both have new albums coming out this month. Grande's Sweetener has always been set to drop on Aug. 17 and Minaj's Queen was originally set for Aug. 10, but the rapper just pushed it back to Aug. 17. Yup, Sweetener and Queen are coming out on the same day. Some fans of the artists aren't pleased with this and have been pitting the women against each other, but Ariana Grande's message to fans pissed at Nicki Minaj pretty much shut all that ish down.
Ari stans have been tweeting left and right about how worried they are that Queen being released the same day as Sweetener could negatively affect the success of both albums. "I love nicki to death," one Twitter user said. "[But] why is her album going to be pushed back the same day as 'Sweetener' now Sweetener will loose streams bc the barbz are going to be listening to queen and 'Queen' is going to loose streams bc arianators are going to be listening to 'Sweetener.' There's plenty of time in the day to listen to two albums, but fans are worried nonetheless.
Another (apparently very upset) Ari stan tweeted, "arianators, please shut the f*ck up. its enough that nicki pushed it. i don't need y'all pitting her and nicki against each other now. i don't. nicki's push has nothing to do w her 'not being ariana's friend' just shut the f*ck up. jesus." Uh, woah. Grande replied to this angry tweet saying there's no bad blood between her and Minaj. She said,
jesus is this what's going on today? imma jus stop logging in at all lmfao. that's my f*cking sister. she's clearing a sample. buy and stream queen & sweetener aug 17 bye. these numbers don't mean as much to the artist as they do to y'all. jus want y'all to listen to the project.
In summary, Ariana Grande and Nicki Minaj fans: "Their albums are coming out the same day, THEIR MUSIC AND FRIENDSHIP ARE RUINED!" Ariana Grande: "I ain't that deep."
Two women can have their respective albums come out on the same day without feeling a threatening sense of competition between each other. Grande and Minaj are close friends, so Grande made it clear that there's enough room on Aug. 17 for the both of them.
Grande made matters even more clear when she tweeted "me n nicki laughed at dat." Everything's fine between these two, people.
Nicki Minaj also responded to the negativity with positivity and love.
She quoted Grande's "laughed at dat" tweet and said, "I love this woman. Can't wait for the fans to benefit from all the hard work on both ends. We love your passion. You guys will be VERY happy. Trust. That's all I'll say."
Some fans still aren't happy with the artists being happy, though. One fan tweeted something particularly confrontational. She quoted Grande's tweet about streaming numbers not meaning as much to them saying, "Girl miss me with this bullsh*t.. You're constantly liking Popcrave's tweets about your accomplishments/charts/sales and YOU MAKE MUSIC FOR THE CHARTS. And don't even get me started on Nicki's annoying ass constantly posting her peaks and sh*t on instagram. We're not dumb sis." Again, woah.
Grande responded,
wait so ... i'm not allowed to say thank u or celebrate w y'all when something does do well? u tell me. being grateful and having a competitive intention behind what you're creating are two very different things. learn to be loving n grateful.... it's real simple. i'm out.
If Ariana Grande and Nicki Minaj say there's no issue with them releasing their albums on the same day, then there's no issue with them releasing their albums on the same day. End of story.