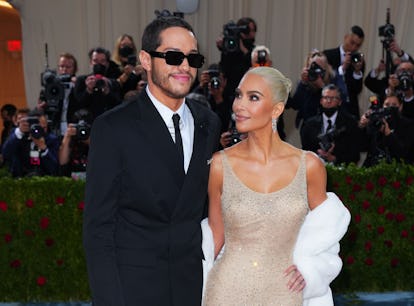 Kim Admitted She "Jumped" Into Her Relationship With Pete Post-Divorce
"It got my mind away from stuff, and that's not a way to run from things."
Gotham/Getty Images Entertainment/Getty Images
Kim Kardashian has been an open book in Season 3 of The Kardashians. The mogul has discussed her divorce from Kanye West, her brief romance with Pete Davidson, and their eventual breakup. In the latest episode of the series, Kim reflected on her relationship with Pete and seemed to express regret for jumping into things "so fast."
In the July 20 episode, Kim told her younger sisters Kylie and Kendall Jenner that she wished she'd taken more time to be single before dating again. "It got my mind away from stuff, and that's not a way to run from things," she said, before sharing a motto that would've helped her at the time. "It's better to deal. Heal. Deal, heal, and then feel."
Kim and Pete began dating in October 2021, around nine months after Kim filed for divorce from her now ex-husband, Kanye West. The Skims founder met Pete when she hosted Saturday Night Live that month, and they soft-launched their relationship on Instagram five months later. Their romance quickly became the talk of social media; however, not all the chatter was positive.
Kanye, also known as "Ye," wasn't shy about sharing his thoughts on Kim and Pete's relationship. This snowballed into a messy whirlwind online, where the rapper shared private conversations he had with Kim and Pete on his Instagram and encouraged his fans to harass the comedian.
While Kanye later took "accountability" for those comments, Kim and Pete never addressed the situation publicly. Instead, the two kept their pairing front and center, including the occasional couple selfie and attending the Met Gala together in May 2022. Then, three months later, the couple reportedly called it quits because of the "different lifestyles" that came with their 13-year age difference.
In The Kardashians episode, Kim seemed to acknowledge the chaotic back-and-forth they went through with Kanye; however, she's choosing not to view it in a negative light. "I'm not going to take every experience and bad thing that happened to me and carry that into my life," she said. "What am I supposed to be learning from this? How is this going to make me a better person?"