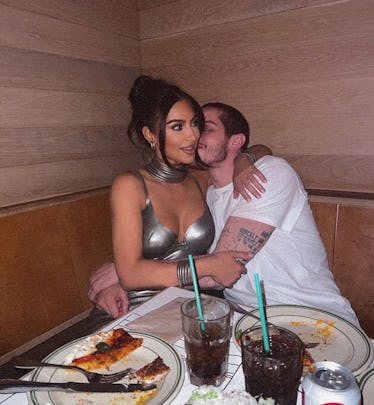 Kim And Pete's Relationship Timeline Is Bittersweet
Instagram/@kimkardashian
The King of Staten Island and the Queen of Calabasas was the couple that no one (least of all Kanye West) saw coming. But once things got started, no one saw Kete ending either (OK, except for maybe Kanye). The couple certainly gave fans plenty to talk about — from spontaneous cross-country trips to Pete Davidson literally branding himself with Kim Kardashian's name. Kim and Pete dated from October 2021 to August 2022, and their relationship timeline is proof that romance happens — and fades — when you least expect it.
"It feels good to have someone that you can really laugh with and just be yourself with," Kim said on a June 21 episode of the Today Show. "Someone that really supports you, but is fun and happy... it's great." It really was... until Kim reportedly decided she wasn't "willing to settle down with him just yet" in August. Oof. Thinking of you, Pete.
Look, it was a beautiful nine months. Kim and Pete were seriously cute together, and there's no doubt Kete stans everywhere will be mourning this unlikely love story for quite some time. But hey, 'tis better to have loved and lost than never to have loved at all! And who knows? The future might hold an epic Kete reunion. For now though, let's get emo and reminisce this iconic relationship.
RIP Kete 💔.
This article was originally published on