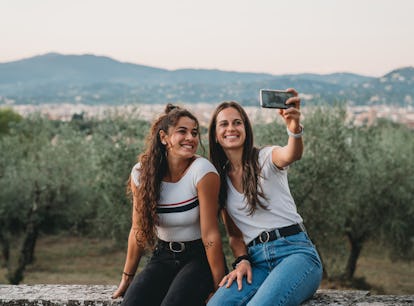 Here's Your Foolproof Guide To Soft-Launching Your New Relationship
Step 1: Find someone to date.
FilippoBacci/E+/Getty Images
Successfully soft-launching your relationship on Instagram is an art form. The careful angle of the photo, the positioning of the two dinner plates, the "date night" caption without any more details... it all adds up to a nearly perfect marketing strategy that provokes just the right amount of intrigue and suspense. But that's only part of the soft launch's appeal. It's a form of preemptive damage control, a way of avoiding full vulnerability — with yourself, your partner, and your followers.
As with many aspects of romantic relationships, there can be serious feelings and insecurities behind the fun. First dates can be nerve-racking. First kisses can be stressful — even if they're great. And first IG stories aren't the exception to this rule. Dr. Daryl Johnson, Ph.D., psychologist and couples therapist, explains, "I think a big part of the reason couples soft-launch rather than sharing [their relationship] directly is the game of it all and to keep people guessing. But it could also feel like you're testing the waters with this person, and while you want the world to know, you aren't sure how far you guys will go."
Whether it's out of self-preservation, an aversion to social media, or concerns about the budding relationship, plenty of people are reluctant to share the details of their love life with the world. "There can be a lot of social embarrassment for bringing up someone all the time if it doesn't work out," Jared Freid, co-host of Betches' U Up? podcast, explains.
Soft launches are a way to avoid that hurt for as long as possible. Each phase of the soft launch is one step closer to that vulnerability — exposure therapy with a digital twist. Per Freid, even on IG stories, "It is vulnerable to put yourself out there." So yes, the process has the potential to make even the calmest dater a little uneasy, but it'll also help you get used to that feeling. That way, when the time comes for a feed post, it won't feel quite so overwhelming.
You aren't just testing yourself, however. According to Freid, soft launches are really are a three-pronged balancing act between yourself, your partner, and your followers. Every Instagram story is an opportunity to gauge reactions, both yours and theirs. "You're making sure to do this a little by little so there's less to clean up if things go bad," he explains.
That cleanup can be surface-level. (Chances are, you won't have to delete a post that disappears after 24 hours anyway.) But Freid says soft launches are often about "your emotional state that you're protecting because you don't want to get too far along." In the wake of a breakup, you might feel particularly grateful that your former relationship's digital footprint remained small.
Suffice to say, soft launches are complicated, and they can feel scary! But they don't have to be a source of stress. Here's a five-step guide to making your soft launch as easy as clicking "Post to Story."
Whether you're soft-launching the beginning of a relationship or the end of one, keep in mind that when it comes to your relationship status, the only people on a need-to-know basis are you and your partner. That doesn't mean that these soft launches don't matter: they definitely do.
Embracing vulnerability, whether online or off, is a big step, even when you're limiting your posts to temporary IG stories. But just because it's nerve-racking doesn't mean it's not worth it. Putting yourself out there, regardless of the outcome, is a good thing.
"These soft launches are tests [of] the person we're dating," Freid explains, "They're also a way of not getting ahead of ourselves, and not embarrassing ourselves on social media — which really, in the end, isn't that embarrassing at all."
Take this as your official go-ahead to post that first story.
Experts:
Jared Freid, co-host of Betches' U Up? podcast
Dr. Daryl Johnson, Ph.D., psychologist and couples therapist