Keeping Up (Or Trying To)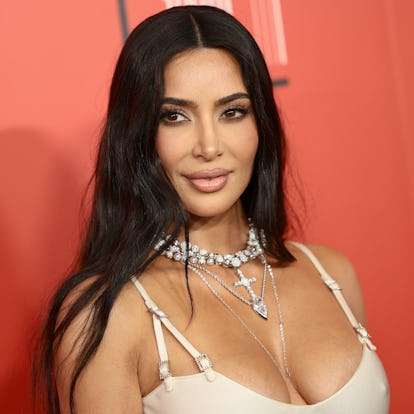 Kim Opened Up About Pete & Kanye In The Kardashians Trailer
Dimitrios Kambouris/Getty Images Entertainment/Getty Images
The Kardashians' Season 3 trailer is here, and it's perfect. While Season 2 was largely criticized for being, well, boring AF, it looks like this season might have too much drama. In the two-minute 28-second video, fans are getting a glimpse of all that is to come, including (but not limited to) Kim Kardashian and Kanye West's divorce, Kim and Pete Davidson's breakup, Kim and Kourtney Kardashian's beef, and Khloé Kardashian's medical scare. Oh! And Kylie Jenner is finally grappling with the idea that the whole family consistently sets unrealistic beauty standards. A lot to unpack, no?
Kim seems to think so, too. In a clip from the new season, she tells her producer, "I don't even know where we left off." She reminds her, "You were still in a relationship." Kim's response? "I was?" she asks. "Damn. Things change really quickly." (Little reminder: In August, Kim and Pete called it quits after nine months together, with sources claiming their romance "fizzle[d] out.")
Quickly, the trailer flashes to show Kim crying, telling Khloé, "No, [I'm] not OK." Whether her emotional moment is about Pete or something else was unclear, but at that time, Kim had a lot to feel stressed about.
In November 2022, Kim and Kanye's divorce was finalized — but throughout their breakup, there was a lot (like, a lot) of drama. Whether it was Kanye publicly complaining about split custody or threatening Pete, things got messy. For the most part, Kim has kept quiet on Kanye's commentary, but it seems to be a point of focus for the upcoming season. "He has made up the most insane narrative," Kim says in the trailer. "We stay silent through all the lies for my kids."
She's not the only Kar-Jenner to now be speaking up about the divorce. In the trailer, Kendall Jenner explains, "I don't know how Kim handles everything with her ex-husband." Kris Jenner adds to Kim, "I don't think you realize the weight of the world is on your shoulders."
Only time will tell exactly what they're teasing, but fortunately, there's not too much time left to wait. Season 3 of The Kardashians is coming to Hulu on May 25.