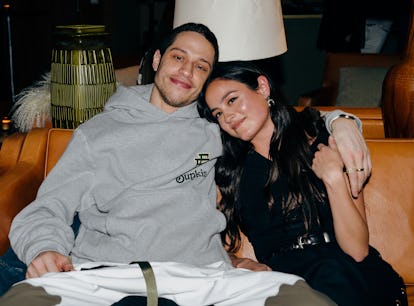 Chase Sui Wonders Called Her Relationship With Pete Davidson "Sacred"
Peacock/NBCUniversal/Getty Images
Let's be real: Pete Davidson's romances get a lot (like, a lot) of public attention. His engagement to Ariana Grande and his relationship with Kim Kardashian are basically pop culture canon at this point. Call it the curse of BDE — fans want to know every detail about his romantic life. Ever since Davidson started dating Chase Sui Wonders in January 2023, there's been a lot of interest in the duo, but they've stayed pretty private about their relationship — excusing, of course, those very public makeout sessions caught on camera in January. (Those videos spoke for themselves.)
Things changed on May 9 when Wonders opened up about their relationship during an interview with Nylon. ICYMI, the duo first met on the set of Bodies, Bodies, Bodies, and they're acting together again in Bupkis. In both shows, they've played each other's love interest. "It was just clear that we could work together super well," Wonders explained. "He's such a pro, and acting with him is my favorite thing."
Although their characters don't always get a happy ending, their real-life romance seems to be off to a very good start. "We talk about everything, and we are very open with each other about everything," Wonders said. "It feels like what's happening in our relationship is very sacred."
Of course, dating someone as high-profile as Davidson can be complicated — and fans' interest doesn't make things any easier. When she first started seeing headlines about their romance, it was "disorienting." Luckily, their open communication helped them navigate it. "The first initial shock was super disorienting, but after that it just becomes… it's like a video game. It feels like another weird player came into the video game," she said. "I feel like I'm still on my own path. My life hasn't changed that much."
Though Davidson hasn't commented directly on their relationship yet, he did praise Wonders' acting chops at the Bupkis premiere. "I mean, she's the best. She's the best actress," he told Entertainment Tonight. "She's gonna crush. She's got a lot of cool stuff going so... I had a blast."
Seems like dating your co-worker isn't *always* a bad idea.