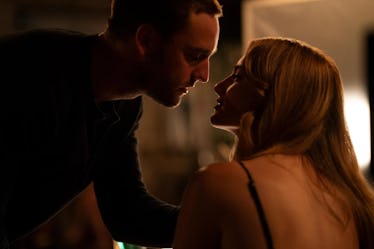 A Definitive List Of 2022's Best TV & Movie Sex Scenes
Hulu
The roaring 20s came in with a bit more of a bang than anyone anticipated. Watching TV and movies at home, either alone or with a partner, became far more central to everyone's lives, than anyone could have expected, and stayed that way in 2022. And the lack of going out on dates means entertainment sometimes needs to ~stimulate~ us in ways it hasn't had to in the past. So, behold: The best TV and movie sex scenes of 2022 that kept the heat going all year long.
It helps that 2021 worked as a heck of a lead-in with sex scenes galore. With everything from the debut of Sex/Life to the arrival of the long-awaited Gossip Girl reboot, it seemed like everyone was doing it... like, doing it, doing it. So what did 2022 have to offer as a follow-up? Well, a lot. With the return of the Game of Thrones universe in House of the Dragon, fans expected lots of sex, and the prequel series did not disappoint. Streaming got in on the fun too, with notable showings from Hulu's Tell Me Lies, Prime Video's A League of Their Own, and more.
So, without further ado, let's run down some of the hottest scenes that made 2022 memorable.
This article was originally published on