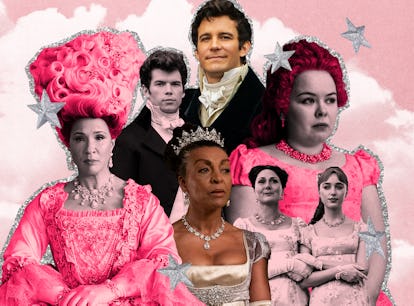 It's Officially Polin Season In The Swoon-y First Look At Bridgerton Season 3
LIAM DANIEL/NETFLIX/Shutterstock/Getty Images
Netflix's romantic period drama Bridgerton became a global phenomenon when Season 1 arrived on Christmas Day in 2020. With that level of success, it's no surprise the show has already been renewed for three more seasons. Season 1 covered The Duke And I; Season 2 covered book two, The Viscount Who Loved Me. So, what's in store for Bridgerton Season 3?
Warning: Spoilers for Bridgerton Season 2, and up through Bridgerton Book 4, follow. Bridgerton is based on author Julia Quinn's Regency romance series of the same name, and each season of the show is expected to adapt one of her novels, which tells each Bridgerton sibling's love story. Season 1 followed eldest Bridgerton daughter Daphne (Phoebe Dynevor) as she began a romance with the dashing Duke of Hastings (Regé-Jean Page). Likewise, Season 2 is centered on the eldest Bridgerton brother Anthony (Jonathan Bailey), when his plans to marry eligible Diamond of the First Water, Edwina Sharma, are upended as he falls for Edwina's older sister, Kate (Simone Ashley), instead.
Most fans assumed Season 3 would adapt the third Bridgerton novel, An Offer From A Gentleman, which follows Benedict Bridgerton as he finds Cinderella-esque romance with a servant named Sophie Beckett. However, this is not the case, and the series is planning to skip ahead to Colin and Penelope's love story in book four, Romancing Mr. Bridgerton.
Here's what is known about Bridgerton Season 3 so far.
Bridgerton Season 3 Plot
Since the first two Bridgerton seasons faithfully followed the same order as the novels, it seemed a given Season 3 would take its cues from An Offer from a Gentleman, Quinn's retelling of Cinderella. In it, Benedict falls for an enchanting young woman at his family's masquerade ball. Unbeknownst to him, she's an earl's daughter named Sophie, who is forced to work as a servant. Having failed at an artistic career and with little self-esteem, Benedict spends his nights dreaming of the mystery girl, unknowingly lusting after this servant he sees daily. The title, An Offer From A Gentleman, should be a clue about how he thinks he can have his cake and eat it too.
But since the end of Season 2, Colin and Penelope's story was rumored to be part of the next season as well. And indeed, at Bridgerton's FYSEE panel on May 15, Nicola Coughlan, who plays Penelope, revealed that those rumors were true. In fact, Season 3 will jump to Book 4, Romancing Mr. Bridgerton. According to TVLine, she said, "Like Lady Whistledown, I have been keeping a secret for quite some time, and I can confirm to you all that Season 3 is Colin and Penelope's love story. I have kept that secret since two weeks into Season 2."
The series' new showrunner, Jess Brownell, elaborated on the upcoming love story in an interview with Variety. "I really feel like it's Colin and Penelope's time," she said. "Because we've been watching both of these actors on our screens since Season 1, we've already invested in them a little bit. Instead of treading water on [their] dynamic, we wanted to push it into their season. It really felt like the perfect moment to tee it up."
She also added: "I feel like Seasons 1 and 2, our male leads had a lot of darkness in their pasts — Simon and his father and Anthony losing his father. Obviously, Colin lost the same father, but I think of Colin and Pen as being characters who bring a lot of comedy to the show."
Precisely what this all means for Benedict and Sophie's story remains to be seen. Rumors suggest Season 3 will be more "ensemble" focused, especially with Anthony and Kate confirmed to return. There's also the chance Benedict and Sophie's story could be the show's secondary plot for Season 3. (Since much of their story happens outside of London, away from most of the other Bridgertons, that's entirely possible.)
Bridgerton Season 3 Cast
For Season 3, fans can expect the Bridgerton family ensemble will return. That includes Luke Thompson (Benedict), who is expected to become the series' next lead. Almost all the rest of the family will be back as well, including Jonathan Bailey (Anthony), Luke Newton (Colin), Claudia Jessie (Eloise), Will Tilston (Gregory), Florence Hunt (Hyacinth), and Ruth Gemmell (Lady Violet).
There is a big of a question mark around Phoebe Dynevor's potential return as Daphne, though. In a Jan. 29 interview with Screen Rant, Dynevor was asked if there are any "exciting dynamics" involving Daphne in Season 3, and her reponse had fans worried she may not be in the new season at all: "Sadly, not in Season 3. Potentially in the future. But Season 3, I'm just excited to watch as a viewer."
Back in May 2022, showrunner Jess Brownell sounded confident Daphne would at least show up in a cameo in Season 3, so it's unclear whether Dynevor was just saying she's barely in the new season, or if she's really not part of it at all.
But there are still some sure things in the Bridgerton universe — Julie Andrews will continue as the voice of Lady Whistledown, and both Adjoa Andoh and Golda Rosheuvel will be back as Lady Danbury and Queen Charlotte, respectively. Gemmell, Ahdoh, and Rosheuvel will also be crossing over to the Queen Charlotte-focused spinoff.
The big change will be Ruby Stokes, who plays Francesca, the third Bridgerton daughter and sixth sibling. Stokes was initially cast in Season 1 as a recurring character since Francesca is still away at school during Daphne's debut year. But in Season 2, fans noticed the character disappeared rather suddenly after the first two episodes; this is because Stokes was cast in a competing Netflix series and scheduling conflicts kept her away. Despite the EP's hopes something could be worked out for Stokes to do both projects, it apparently couldn't work out. On May 12, 2022, Deadline announced the show had recast the part. Anatomy of a Scandal's Hannah Dodd (who played Young Sophie) will take over the role of Francesca going forward. That's a relief to fans who had started to worry Francesca's romance (Bridgerton Book 6, When He Was Wicked) would not make it to the screen due to Stokes' tight schedule.
A more exciting announcement: Simone Ashley (Kate) confirmed she will not go the way of Regé-Jean Page, who exited the series after his romance with Daphne concluded; Ashley will return alongside Bailey. It's also possible the overwhelmingly negative response to Simon's exit could inspire production to keep Charithra Chandran (Edwina) and Shelley Conn (Lady Mary) around in some capacity as well. After all, Queen Charlotte did promise to introduce Edwina to Prince Frederick at the end of Season 2, so maybe Freddie Stroma will have a return engagement too.
With Nicola Coughlan's Penelope now confirmed as Season 3's main heroine, the Featheringtons will also be back, including Polly Walker (Lady Portia), Bessie Carter (Prudence), and Harriet Cains (Phillipa). Whether or not Benedict's Sophie will also be cast to make an appearance remains to be seen.
Three new cast members were revealed on July 20. Daniel Francis will play the charismatic new suitor Marcus Anderson; Sam Phillips will enter the ton as the eccentric Lord Debling; and James Phoon will ham it up as the handsome but dim-witted Harry Dankworth.
Bridgerton Season 3 Filming Updates
After two years under the guidance of Shondaland veteran Chris Van Dusen as showrunner, Bridgerton is passing hands. The new showrunner for the next two seasons will be Jess Brownell. Brownell has worked extensively on Shondaland series, including Bridgerton Seasons 1 and 2, Inventing Anna, and Rhimes' ABC series, Scandal.
It's believed part of the reason for the new showrunner move was so production could get started on new seasons while Season 2 was still in post-production. Considering how long Season 2 took to film (a task made more difficult by the Hollywood shutdowns and U.K. lockdowns of 2020 and 2021).
Netflix confirmed filming began for Season 3 on July 20 by sharing a video of the cast on set. Fittingly, the behind-the-scenes clip ended with Nicola Coughlan and Luke Newton riding off in a carriage together, providing a sneak peek at the Penelope/Colin romance that'll be at the center of the season.
Bridgerton Season 3 Photos
Netflix released the first four photos of Bridgerton Season 3 during the streamer's Tudum event on June 17. Naturally, Penelope and Colin are the stars of the first look.
Bridgerton Season 3 Release Date & Trailer
Netflix gave Bridgerton fans their first taste of Season 3 during the streamer's Sept. 24 Tudum festival. Nicola Coughlan read out Lady Whistledown's first few lines of the new season, which focused on the announcement of a new social season in the Ton.
As for a release date, with Season 1 coming at Christmas 2020 and Season 2 out in March 2022, fans should expect Season 3 to arrive sometime in the second half of 2023.
Bridgerton Seasons 1 and 2 are streaming on Netflix.
This article was originally published on