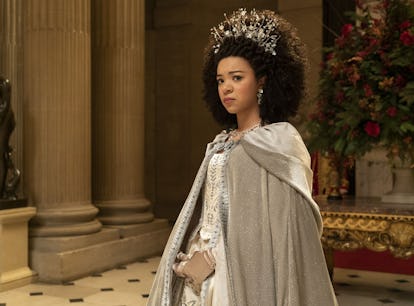 The First Trailer For Netflix's Bridgerton Prequel Is A Royal Delight
Consider Queen Charlotte your new favorite show.
Liam Daniel/Netflix © 2022
Make way for Queen Charlotte, because her Bridgerton spinoff series is on the horizon. On Mar. 23, Netflix released the full-length trailer for Queen Charlotte: A Bridgerton Story and revealed it will hit the streaming platform on May 4. The anticipated series was originally announced in May 2021, following the massive success of Netflix's Bridgerton. Here's everything to know about prequel, including details about the trailer and who will star in it.
Queen Charlotte is far and away one of the most interesting characters on Bridgerton — and that's saying something, considering how complex and dynamic the series has made even the most fringe characters. That aura blares in the newly released trailer, which sees Charlotte facing a royal awakening after being paired in an arranged marriage to King George.
Charlotte is not a character in the original Bridgerton novels nor the Rokesby prequel series, which covered the love stories of Edmund Bridgerton's sisters and friends. Executive producer Shonda Rhimes got the idea to add her to the Netflix series since she was Queen in real life during the Regency time period during which the Bridgerton stories are set. The character is the show's shrewdest addition, adding an air of historical accuracy to the romantic fantasy series.
The real Queen Charlotte's history means there's a lot that a spinoff could cover. The queen's Bridgerton Season 2 storyline further adds intrigue to her backstory — and no, not just because of that powdery substance she was seen snorting. The first season hinted at Charlotte's relationship with her husband, King George III, amid his cognitive health decline. Season 2 gave dimension to it, and a humanizing angle to the show's sharp and sassy queen fans have come to know and love. Now, in her own prequel, she's cornered in a classic arranged-marriage-to-lovers trope sure to bring out those qualities more.
Queen Charlotte: A Bridgerton Story Trailer
In Netflix's first teaser of the series, a young Charlotte tries to escape her arranged marriage to the king... only to realize she's divulged her exit strategy to the king himself. Yeah, awkward! However, in the newly-released trailer, viewers can see the full lead-up to Charlotte's marriage. There's romance, stirring rises and falls of power, and scandals— remember, this is helmed by the scandal queen herself, Rhimes.
The trailer opens with Charlotte pondering why was she chosen by the royal family to be the young leader's wife. Her traveling companion nonchalantly shuts her valid question down, stating "there are worse fates than marrying the king of England." Well, OK then. Viewers are then immersed in the story of their uncertain romance and see Charlotte settling in her eventual rise to power.
Queen Charlotte: A Bridgerton Story First Look Image
On Jan. 1, 2023, Netflix teased the first image from the new Bridgerton spinoff, introducing a character fans have been as eager to see as they were to see Young Charlotte: Young Lady Agatha Danbury. The photo shows Danbury in her prime, with hair to the sky and ostrich feathers just so. So far, the show has revealed that Young Agatha is "under the thumb of her much older husband, [who] becomes a guiding light for the new Queen, all while finding her own voice and power," but not much else is known about her storyline.
Queen Charlotte: A Bridgerton Story Spinoff Cast
Three main Bridgerton cast members will reprise their roles for the new spinoff: Golda Rosheuvel (Queen Charlotte), Adjoa Andoh (Lady Agatha Danbury), and Ruth Gemmell (Lady Violet Bridgerton), which means in addition to exploring the rise of Queen Charlotte, the series will also focus on Violet Bridgerton and Lady Danbury.
There's also a full cast to tell the story of a younger Queen Charlotte. India Amarteifio (Line of Duty) plays Young Queen Charlotte, a girl who arrives in London to marry the king of England against her will and becomes an iconic European monarch. Newcomer Arsema Thomas plays Agatha, aka Young Lady Danbury, who works her way into society at Charlotte's side. Corey Mylchreest (Sandman) will play Charlotte's betrothed, Young King George. Michelle Fairley (Gangs of London) plays his mother, Princess Augusta.
Also included in the cast: Sam Clemmett (Harry Potter and the Cursed Child) as Young Brimsley, Hugh Sachs (returning from Bridgerton Seasons 1 and 2) as Brimsley, Richard Cunningham (The Witcher) as Lord Bute, Tunji Kasim (Nancy Drew) as Adolphus, Rob Maloney (Casualty) as the Royal Doctor, and Cyril Nri (Cucumber) as Lord Danbury.
On June 8, Deadline reported that the spinoff had cast Lord and Lady Ledger in the series. These two names might not sound like a big deal to most people, but that's because most people don't know Lady Violet Bridgerton's maiden name was Ledger, so these are her parents. Violet's parents will be played by two British actors who PBS audiences might recognize, Keir Charles (Flesh & Blood) and Katie Brayben (Miss Scarlet and The Duke).
On July 7, Lady Violet Ledger was finally revealed. Connie Jenkins-Greig (Mr. Selfridge) will take on the role.
Queen Charlotte: A Bridgerton Story Spinoff Plot
On March 30, 2022, Netflix shared the official logline for the new miniseries.
Centered on Queen Charlotte's rise to prominence and power, this Bridgerton-verse prequel tells the story of how the young Queen's marriage to King George sparked both a great love story and a societal shift, creating the world of the ton inherited by the characters in Bridgerton.
Judging by the show's cast, the series will also show glimpses of the queen's present-day life as it exists in the current Bridgerton timeline. How the series will move between timelines remains to be seen.
Queen Charlotte: A Bridgerton Story Spinoff Novel
Shondaland's latest project will also inspire more novels for Julia Quinn fans to read. The new miniseries is set before the Rokesby prequels, since Violet is not yet married to Edmund. (In the Rokesby series, she and Edmund are newly married, and she gives birth to Anthony and Benedict throughout the novels.)
Romance fans may love Bridgerton, but they also want a novel to read, so Rhimes and Quinn are teaming up to provide one. On July 7, 2022, Deadline reported Rhimes is collaborating with author Julia Quinn to turn the story into a standalone novel. The timing of the novel's release will reportedly coincide with the series' debut on Netflix.
Queen Charlotte: A Bridgerton Story Release Date
Queen Charlotte: A Bridgerton Story will premiere May 4 on Netflix.
This article was originally published on