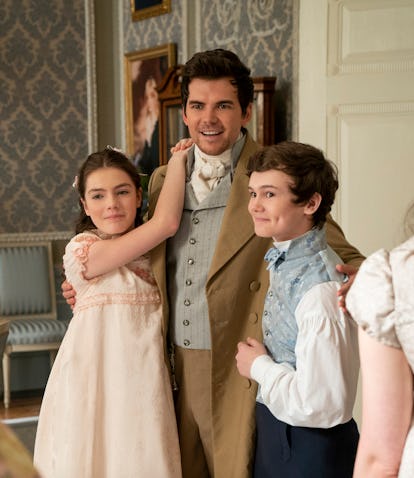 6 Big Clues Bridgerton Season 3 Won't Be About Benedict After All
Here for Colin's moment, TBH.
Liam Daniel/Netflix © 2022
Bridgerton Seasons 1 and 2 were loyal to the Julia Quinn novels on which the Netflix series is based — except when they weren't. Season 1 radically changed some surrounding details, but the central romance stuck faithfully to the first book in the novel series. Season 2 focused on Anthony's predicament the same way Book 2 does, but it drastically altered the pacing of the central romance. Now, fans are starting to suspect Bridgerton Seasons 3 and 4 may upend all expectations, possibly skip[ing Book 3 altogether. And while fans of the books may feel some type of way about this, it's hard to deny all the clues that Bridgerton Season 3 will be about Colin and Penelope instead of Book 3's protagonist.
Warning: Spoilers for the Bridgerton book series follow, along with Seasons 1 and 2. Before getting into the clues, here's a bit of background: Season 1 covered Book 1, The Duke and I. The Netflix adaptation added secondary stories for Anthony, Benedict, Colin, Eloise, and Penelope to make the show more of an ensemble — and Queen Charlotte was a wholly added character. But Daphne and Simon's romance stuck closely to the book. Season 2 covered Book 2, The Viscount Who Loved Me. Not only were the stories for Benedict, Colin, Eloise, and Penelope added in (and largely pulled from future books), but also, the show turned Anthony's straightforward marriage to Kate into a love triangle with Edwina.
For the most part, fans assumed Seasons 3 and 4, would adapt Books 3 and 4, An Offer From a Gentleman (Benedict's story) and Romancing Mr. Bridgerton (Colin's story), respectively. In Book 3, Benedict falls in love with an earl's bastard daughter who works as a lady's maid, while Book 4 is when Colin finally realizes he loves Penelope, years after she gave up on him. Moreover, Book 4, Book 5 (Eloise's To Sir Phillip With Love), and Book 6 (Francesca's When He Was Wicked) form a trilogy and happen concurrently, with plots that intertwine.
Bascially, there's a lot of mess that Bridgerton has to sort through in its upcoming seasons, and for that reason, fans think Season 3 will simplify it a bit by going straight to Colin's story. Here are some more clues to back this theory up.
Bridgerton Seasons 1 and 2 are now streaming on Netflix. Seasons 3 and 4 are coming.